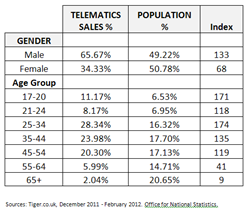 sales figures from car insurance comparison site Tiger.co.uk show that telematics policies are growing in popularity
(PRWEB UK) 3 April 2012
Sales figures from Tiger.co.uk show that telematics policies are growing in popularity. For the three months to February 2012 policies based on telematics accounted for almost 14 per cent of all policies that were sold, compared to the same period last year when they accounted for only 12%.
Far from being just a product for younger drivers, it seems that the group of drivers most likely to be buying policies are those aged between 25-34.
Whilst sales of telematics car insurance to younger drivers is strong, with 17-20 year olds being 71% more likely to purchase one of these products compared with the population as a whole, it is older motorists who are buying the most policies. Almost three quarters of the sales of telematics based car insurance through Tiger.co.uk were to drivers between the ages of 25-54.
Andrew Goulborn, Commercial Director for compare car insurance site Tiger.co.uk commented:
"This type of insurance product is growing in popularity and this trend will continue. We are seeing lots more of these products coming on to the market and we are now able to provide quotes from four telematics insurance providers on Tiger.co.uk and there are a couple more in the pipeline. It has been well documented that younger drivers and those who have a low annual mileage can get good value for money from these products but it is interesting to see from our sales data that they do have wider appeal and therefore have potential to become mainstream. If you are considering taking out a product like this make sure that you check the policy details as they are structured in different ways with varying restrictions."
About http://www.tiger.co.uk:
Tiger.co.uk is a trading name of Call Connection Ltd. Tiger.co.uk is a UK based, independent motor insurance comparison site, offering insurance quotes from over 140 insurance brands. Call Connection Ltd is authorised and regulated by the Financial Services Authority (number 308374).