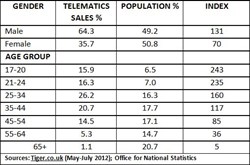 Sales of telematics-based policies are growing as more insurance providers are bringing their black box products to the market.
(PRWEB UK) 19 September 2012
Telematics car insurance (also known as "black box" or "pay as/how you drive" insurance) is one of the hottest topics in the motor insurance world. The use of telematics technology allows insurance providers to monitor driving behaviour and to use this information as a factor in the pricing of insurance policies.
Sales of telematics-based policies are growing as more insurance providers are bringing their black box products to the market. Tiger.co.uk, the independent car insurance comparison site that features more telematics insurance providers than any other site, estimates that these policies now account for over 15% of sales via its site as more motorists tune in to the benefits – particularly financial – that they offer.
There is a widespread belief that telematics is only available for or best suited to those looking for young drivers insurance. Figures released by Tiger.co.uk however suggest that this kind of insurance has a much broader appeal (see attached table).
The sales summary clearly shows a bias towards male motorists and given the high pricing of policies for young male drivers compared to their female counterparts, perhaps this is not surprising. However the summary demonstrates that telematics insurance uptake is not restricted to the youngest segments of the population: Although 17 to 24 year-olds are more than twice as likely as the average adult to buy one of these "pay as you drive" insurance policies, 25 to 54s actually make up over 60% of all sales.
Commenting on these sales figures, Andrew Goulborn, Tiger.co.uk's spokesperson, said: "A lot of people assume that telematics policies are only designed for young drivers insurance because in the past telematics has often been associated with late night driving curfews and the penalizing of the poor driving behaviours often associated with newly qualified drivers.
"What we're seeing on Tiger.co.uk is that many drivers who may normally pay higher than average premiums – such as those with recent claims or with driving convictions – are finding that the range of telematics insurance policies now on offer may provide them with comparatively cheap car insurance. With more products now being based on mileage rather than daypart restrictions and rewards rather than penalties, there's a definite appeal to the over 25 age groups.
"Tiger.co.uk has just added a sixth telematics insurance brand – Carrot – to its panel of nearly 100 car insurance brands, making it the number one choice for drivers wanting to compare these relatively new kinds of policies with a wide range of more traditional products."
ABOUT TIGER.CO.UK
Tiger.co.uk is a trading name of Call Connection Ltd. Tiger.co.uk is a UK based, independent motor insurance comparison site, offering insurance quotes from over 150 insurance brands. Call Connection Ltd is authorised and regulated by the Financial Services Authority (number 308374).