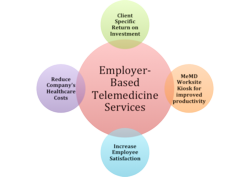 MeMD saved us roughly $9500 in health care expenses within the first 30 days.
Scottsdale, Arizona (PRWEB) May 29, 2013
Due to health care reform and the costs associated with it, many third party administrators (TPA's) are searching for solutions to help their self-funded clients. As a result of rising health care costs, telemedicine has emerged as a hot solution, and now the entire health care market has caught on to its efficiency and convenience to handle medical issues in an easier, faster, and more cost-effective setting.
According to the American Telemedicine Association, at least 10 million people already benefit from telemedicine technologies. "And that will double in the next 18 months," says Jonathan Linkous, CEO of the American Telemedicine Association in Washington, D.C. and over 400,000 patients made use of online doctor services. Additionally, over half of all large employers expect to offer new access points for health care delivery in 2014, such as telemedicine and worksite kiosks.
Third party administrators searching for cost saving methods for their clients have discovered many benefits with telemedicine:

It provides best in class health care services to their self-funded clients
It drives immediate value and savings for the TPA's clients
Additionally, the benefits for the self-funded clients are significant:
Telemedicine reduces the company's healthcare costs
Eliminates barriers to maintenance medications (time, cost & convenience)
Telemedicine increases employee utilization
MeMD, Inc is helping TPA's introduce telemedicine services to their self-funded clients as a smarter choices for employer-based health care. Telemedicine offers online or telephonic options for employers to expand access to quality care for their employees, enhancing timely consultations with physicians while eliminating unnecessary urgent care and emergency room visits.
"Our organization could not be happier with MeMD," states Health System Phoenix, Benefit Manager, "their enthusiasm, attention to detail and pure determination to deliver their telemedicine product to our organization in a timely effective manner was second to none. With over 4,000 employees and 5,800 dependents this was no small undertaking and MeMD met the challenge head on. MeMD saved us roughly $9500 in health care expenses within the first 30 days."
Through MeMD, most patients are seen and treated in thirty minutes or less with no drive time or wait at the doctor's office. MeMD on line doctors are targeted for employees in need of treatment for common ailments that require a medical professional. It is recommended for ailments such as flu symptoms, colds, pink eye, ear aches, rashes, acne, sinus symptoms and allergies.
About MeMD
Headquartered in Scottsdale, Arizona, MeMD, Inc is revolutionizing the healthcare industry by offering access to affordable, convenient, on-demand and secure web-based health care. MeMD combines proven telemedicine technologies with business model innovations to improve access to medical providers, reduce healthcare costs, and make the experience of seeing a physician convenient, enjoyable, and affordable – the way it should be. To inquire about Employer Based Telemedicine Solutions call (480) 339-5003 or visit MeMD.me
About Kevin Wallquist, Vice President of Business Solutions
Kevin brings more than 13 years of business-to-business experience and oversees all sales and implementation strategies for MeMD. Prior to joining MeMD, Kevin was Co-Founder and Managing Director of Spyre Employment Branding, a Scottsdale based startup helping leading organizations uncover their unique brand identity, implement ideas to improve organizational communications and incorporate innovative sourcing and social media strategies to creatively attract and retain top talent. To inquire about Employer Based Telemedicine Solutions call (480) 339-5003 or visit MeMD.me