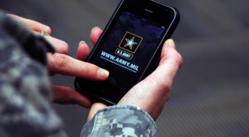 Desktop Alert guarantees a 100% SLA 24/7/365; if any maintenance is being done, the service would automatically fall-over to back-up servers and tele-serve dialers." Said Howard Ryan, Founder Desktop Alert Inc.
Chatham, NJ (PRWEB) January 31, 2013
Desktop Alert Inc., the nation's award winning provider of 'less than one minute' IP-Based mass notification systems to Department of Homeland Security Federal Emergency Management Agency (FEMA), Northern Command, NORAD, the U.S. Army worldwide, the U.S. National Guard and U.S. Air National Guard enterprise networks today announced the U.S. Army has continued its expansion of the Desktop Alert Telephone Alert System (TAS).
U.S. Army Wide Area Alert Networks (WAAN) are one of the principal tools Army installations utilize to alert personnel to destructive weather hazards, emergencies, severe traffic conditions, force protection condition (FPCON) changes, etc., both during and after working hours.
The automated telephone notification system (ATNS), one of several Desktop Alert sub-systems of the Army WAAN, enables registered users to receive telephonic, email, and text alerts on devices they designate. Personally identifiable information the user provides is safeguarded. Once registered, a user can update their profile at any time. The Desktop Alert ATNS is an integrated CAC-enabled WAAN alerting sub-system which integrates seamlessly with the Army Network Alert System (NAS) and generates desktop pop-up alerts, e-mail alerts, text message alerts (SMS) and alerts to numerous other end-points such as digital signage and public address systems.
Desktop Alert TAS Server Specifications:

Dedicated tele-servers with over 3,000 dedicated reserved lines for voice calls.
Dials phones and delivers thousands of test messages per TAS per minute directed across all bases simultaneously.
Email delivery to smart phones or desktops at a minimum of 10,000 per minute.
Smart Phone application "push" delivery at minimum of 10,000 per minute delivery rate.
Conference Calling:
Any voice call can be set-up to allow instant conference call link. Recipient(s) can press '0' to be connected to a conference bridge. (Supports 500 simultaneous connections on any one call or from any one base).
Confirmation-Acknowledgment:
Recipients can reply via touch tone key on voice calls, text message on SMS text calls, or via smart app reply on smart phones- all replies are aggregated and available via web services or on-line.
Recipient Control:
Recipients can, if allowed to do so, update contact points, add or change their cell phone number, add smart devices to be included in notifications. Reports of changes, with optional administrator override approval is sent to chosen administrators.
Quadruple Delivery for Redundancy:
Any alert can be simultaneously sent from Desktop Alert Servers via web services, to launch alerts to voice, text, e-mail and app delivery. In times of high system stress (major disaster, widespread outages), Desktop Alert executes a simultaneous launch to assure delivery even if other channels are blocked or unavailable in the recipient's area.
Desktop Alert colo-facilities are cross-connected to at least five different telco carriers, and auto-configured to spread calls over multiple carriers to achieve highest possible delivery even in areas of the country where a local base may be limited in the number of inbound lines available from any one carrier. These teleservers are backed up by our 10,000 dedicated lines used to deliver a daily volume of 6 million calls. These back-up lines would be made available on an automatic priority process that re-allocates connection resources every 30 seconds.
"Desktop Alert guarantees our military clientele a 100% SLA 24/7/365; if any maintenance is being done, the service would automatically fall-over to back-up servers and tele-serve dialers." said Howard Ryan, Founder Desktop Alert Inc.
About Desktop Alert: http://www.desktopalert.net
Worldwide U.S. Military organizations such as U.S. Northern Command, The United States National Guard, The United States Air Force Academy, The United States Military Academy at West Point, Multi-National Forces in IRAQ and Afghanistan, The U.S. Air Force, The U.S. Army now utilize the Desktop Alert mass notification platform daily for their organizations emergency communication requirements. Desktop Alert can
contact thousands of users with desktop alerts and require receipt confirmation of the message. Those not verified can then be listed on a report and/or sent as a "Target Package" to be automatically contacted by other means such as email, SMS, phone calls and other devices.