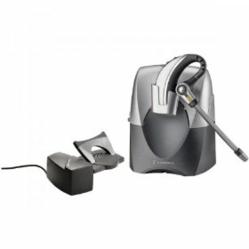 Burlingame, CA (Vocus/PRWEB) March 22, 2011
Although wireless telephone headsets are becoming more and more common, a Corded Headset or just a typical Telephone Headset is becoming a standard in today's work environment. TheHeadsetShop.com is a new online retail store providing a huge selection of Plantronics Headsets and GN Netcom Headsets at a discount rate of up to 50% off retail price. Providing wireless telephone headsets and telephone headsets the staff is highly trained in the industry, with excellent product knowledge and product support.
The most popular wireless telephone headsets that are selling today are the Plantronics CS55 Wireless Headset, Plantronics Cs70N Wireless Headset, Plantronics CS351N Wireless Headset, GN Netcom 9125 Wireless Headset and GN Netcom 9350e Wireless Headset. GN Netcom 9350e Wireless Telephone Headset not only allows connecting it to a business desk phone but also interconnecting it via USB to a PC for soft phone applications. Wireless Telephone Headsets provide the ability to roam up to 300 feet from an office desk and be completely hands free. Noise canceling microphones ensure quality and performance while having a wide selection of wearing styles to choose from allowing all day comfort.
Corded Telephone Headsets are very common in a typical office setting as well. There is a good chance if someone isn't using a wireless headset they are most likely using a corded telephone headset. More and more corded telephone headset users are switching over to Wireless Telephone Headsets. When people find our about the benefits of using a wireless headset there is no comparison when it comes down to corded telephone headsets. Wireless Headsets offer the same performance and quality as a corded headset but without the cord and the ability to roam away from your desk. To learn more or find out where to purchase a Plantronics Wireless Headset or a GN Netcom Headset please visit TheHeadsetShop.com.
It is very important to research where to buy wireless headsets and telephone headsets to ensure the products are brand new and not refurbished. Buying a Plantronics telephone headset or GN Netcom telephone brand new will ensure either a 1 year or 2 year manufacturer warranty depending on if it is a corded headset or wireless headset. TheHeadsetShop.com only sells Brand New products straight from the factory with manufacturer warranty along with a 30 day money back guarantee with NO restocking fees. All items will ship the same day and in most cases will include free shipping. Another good thing to think about when selecting a telephone headset is whether or not the wearing style preferred is over the head or over the ear. This will help minimize the selection process when finding the right wireless telephone headset or corded telephone headset. For more information or for assistance selecting a Telephone Headset please call 877-656-9526 or visit TheHeadsetShop.com.
Using a Wireless Telephone Headset is not only a privilege but a luxury within the office or wherever one may be using a wireless headset. Good things to think of when selecting the right headset include: wearing style, battery span, wireless range, foam or leather ear cushions, remote answering capability, Soft Phone or IP Telephone. Many different variables apply when selecting the right telephone headset and TheHeadsetShop.com understands the questions that need to be asked during the selection process.
# # #