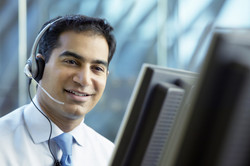 This new feature is exciting because it enhances the 'on-demand' nature of our organization, as you never know when a language barrier is going to challenge everyday business transactions
Washington, D.C. (Vocus) July 22, 2009
Consumers, business and government organizations across the nation now have a new option when communicating with non-English speakers. Language Learning Enterprises, Inc. (LLE®), the leading, global provider of language services, including telephone interpretation , translation and language testing, now offers the ability to access a professional language interpreter over the phone in over 150 languages simply by using a credit card. This option compliments LLE's telephone interpretation network, LLE-LINK® where customers still have the ability to create an account for live access to a professional linguist.
"This new feature is exciting because it enhances the 'on-demand' nature of our organization, as you never know when a language barrier is going to challenge everyday business transactions," states LLE's founder and CEO, Kathleen K. Diamond.
According to the U.S. Census Bureau, about 20 percent of the nation's population, or over 56 million individuals, are classified as having the limited ability to speak or understand the English language. "Everyday, government, business, non-profits and consumers use our LLE-LINK service to communicate with limited English proficient individuals," adds Diamond.
To access a language interpreter with the new credit card option, LLE's customers simply dial into an 800 number, enter their card information into the automated system, and enter a language request code to be connected to a live interpreter. Diamond reports, for nearly twenty years, LLE has provided telephone interpretation through a community of professional, experienced linguists at a very affordable rate. "Our objective is to guarantee an effective exchange between people of different languages and cultures."
Diamond, who speaks English, French and Spanish, founded LLE in 1979 with a mission to deliver excellence in foreign languages and immediately began providing language instruction to the U.S. Government. Today, LLE is recognized as the leading provider of multilingual services. In addition to over the phone interpretation, the firm provides document translation, language testing, on-site interpretation and language instruction to customers around the world.
For more information, call (877) 405-8764, extension 213; or visit http://www.lle-inc.com.
About LLE:
Language Learning Enterprises, Inc. (LLE®) is recognized as the leading, global provider of technology supported language solutions to government, telecommunications, financial services, medical, and other customers around the world.
Utilizing an integrated community of over 3,000 experienced linguists specializing in over 150 different languages managed by dedicated language professionals, LLE delivers accurate and reliable telephone and face-to-face interpretation, document and e-mail translation, language instruction, language proficiency testing, and fluency assessments.
LLE is celebrating its 30th year of recognition as a leading language services provider. LLE is a woman-owned, WBENC certified business with headquarters in Washington, DC, and a language technology center in Winchester, VA.
For more information, including media inquires on LLE, the impact of non-English speakers, or the entrepreneurial journey of Kathleen K. Diamond, call 877.405.8764 option 213.
###