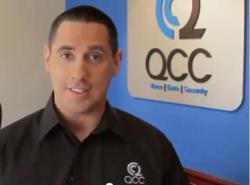 We have grown from a small one man operation to a full service telecommunications company offering systems and equipment from Avaya, Panasonic, ShoreTel, DMP and Honeywell
Baltimore, MD (PRWEB) August 27, 2012
Correction- QCCUSA wishes to correct the error of identifying the National Football League (NFL) Players Association as an endorser of their business in a previous release.
QCCUSA of Maryland has been serving the local community for the past 11 years. According to Lee Barnes,CEO and President of QCC, "Over the last few years we have expanded our Voice, Data and Security nationwide footprint. We have grown from a small one man operation to a full service telecommunications company offering systems and equipment from Avaya, Panasonic, ShoreTel, DMP and Honeywell".
"Our customers are very pleased with the PBX Telephone Systems, Electronic Security Systems, Infrastructure Cabling, Enterprise Telephone Systems and Carrier Services Division solutions that we have provided them". Mr. Barnes also shared with me some of the comments that have been made concerning his company;
"The success of my business is due in no small part to you and the services QCC has provided me. Referring QCC to my clients has been one of the best decisions I have ever made. QCC expertise in problem solving and troubleshooting has paid dividends for us around previously unsolvable problems."

Matthew Mueller (MacKenzieCommerical Real Estate) "You demonstrated both a high quality of customer care, as well as a dedication to your craft."
Marc DelMonico,( Franciscan Action Network)
"Thank you for the prompt and excellent service – you could give lessons to our former telephone service
company."

Ed Johnson (American Humanist Association)
During my visit with QCC, I observed the expertise and professionalism of the QCC staff. A leading provider of PBX Systems in Maryland, Telephone Systems in Maryland, Avaya Telephone Systems in Maryland and ShoreTel Telephone Systems in Maryland, QCCUSA of Maryland has put service and integrity first in their business model.
With satisfied customers in Maryland, Virginia, Washington D.C. and nationwide, it is clear that Mr.Barnes and QCCUSA have a found a winning formula
For more than a decade, Mid-Atlantic businesses have found one company that seamlessly manages all aspects of their communication needs. Over 2,000 customers, significant manufacturers' awards and business media
have celebrated the QCC approach of Connecting Business With Progress.
QCCUSA
http://qccusa.com
Lee Barnes
11400 Cronridge Drive, Suite A
Owings Mills, MD 21117
Email: info(at)qccusa(dot)com
Phone Number: 410-452-1000 - 888-888-4113