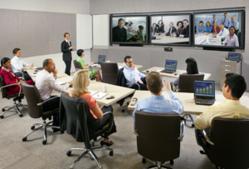 Richmond, VA (PRWEB) November 07, 2012
Whitlock, a global AV solutions provider and Polycom Platinum Certified Service Partner (CSP), is hosting a one-day interactive event featuring the latest enterprise-grade video collaboration solutions, including TelePresence, RealPresence CloudAXIS, SmartPairing and Enhanced Whiteboarding.
The event runs from 12-2pm EST on November 16th and will take place in Atlanta, Chicago, Dallas, Herndon, New York, San Jose, Seattle and Westminster (Denver). Executives and experts from both Whitlock and Polycom will be available for discussions and demonstrations.
"We're excited by the quality of the new Polycom portfolio that just hit the market," explains John Steinhauer, Whitlock's Vice President, who will kick off the event. "The most interesting aspect for our clients is to see first hand that you no longer have to compromise on quality or reliability to connect the boardroom with the remote office. This is what we plan to demonstrate and what compelled us to set up a multi-location venue."
Attendees can expect to learn about the newest features of the Polycom product suite, including wireless control of video meetings using an iPad and compatibility with Skype, Facebook and Google Talk.
Hosted at Polycom's Executive Experience Centers across the U.S., Whitlock invites AV and IT Directors to attend and test drive the latest technologies in a real world setting. As part of its national footprint, Whitlock has offices in each of the 8 event locations. The company is an industry leader in global AV/IT implementations and solutions management, which includes 24x7 support from its AVNOC in Dallas, TX.
To learn more or to register, please go to http://www.whitlock.com/events for more details.
***
Whitlock is a Global AV Solutions Provider, specializing in collaborative technology design, integration and managed services. The company helps clients create engaging, interactive environments, including telepresence/videoconferencing rooms, streaming solutions, mobility, video infrastructure, digital signage networks, auditoriums, collaborative classrooms and training facilities, visualization rooms, and control rooms/network operations centers. Whitlock also offers expansive AV managed services, including AVNOC and remote support, field services, on-site managed services, videoconferencing warranty/maintenance and virtual and hosted video services.