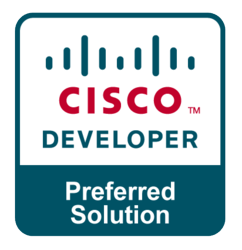 Richmond, VA (PRWEB) October 04, 2011
Whitlock announced that it has joined the Cisco Developer Network as a Preferred Solution Developer within the AV Integration technology category. In addition, Whitlock's AV Integration portfolio has successfully completed interoperability testing with Cisco's Immersive TelePresence products.
The Cisco Developer Network unites Cisco with third-party developers of hardware and software to deliver tested interoperable solutions to joint customers. As a Preferred Solution Developer, Whitlock has worked closely with Cisco to deliver enhanced solutions that bring greater interoperability with Cisco networking solutions. Whitlock also shares Cisco's strong commitment to customer service and satisfaction, has completed interoperability verification testing based on criteria set forth by Cisco, and can provide their customers 24 hour, 7 days a week customer support.
With offerings such as audiovisual integration, customers can more quickly deploy a broad range of Cisco compatible business applications, devices, or services that can enhance the capabilities, performance, and management of their Cisco network. For more information on Whitlock's AV integration portfolio interoperability with Cisco's Immersive TelePresence products go to: http://developer.cisco.com/web/partner/search?accountId=0014000000ZntASAAZ.
Whitlock is a global leader in AV integration, TelePresence, videoconferencing solutions and managed services. The company helps clients maximize, standardize and protect the value of their audiovisual technology investments. Whitlock has over 20 locations across the U.S. and is a founder and partner in the Global Presence Alliance (GPA), which provides systems integration, standards, quality control and support for audiovisual services worldwide. Whitlock has been teaming up with Cisco/Tandberg since 1998. The company is also a Cisco TelePresence Video Master Authorized Technology partner (ATP), Premier Certified, with certifications in Advanced Unified Communications (AUC), express foundation and the Digital Media Suite (DMS). With over 300 technical professionals across the U.S and strong AV expertise in Cisco's video solution portfolio, Whitlock offers customers a powerful combination of service, innovation and quality. http://www.whitlock.com http://www.global-presence.org
# # #