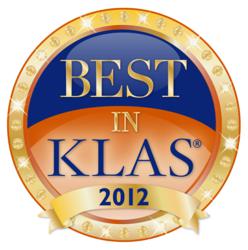 Our team has always been very dedicated to providing the highest level of customer service. This achievement reflects our ability to follow through on our promises and provide a service that is truly meeting the needs of our customers. - Joe Moock, CEO
Poway, CA (PRWEB) January 08, 2013
StatRad received the Best in KLAS award for Teleradiology Services in the 2012 Best in KLAS Awards: Software & Services report. StatRad was named the top ranked teleradiology services provider in its annual report after KLAS collected surveys and conducted phone interviews with hospitals and radiology groups across the country.
"Providers recognize the critical nature that vendors play in improving healthcare delivery," says Adam Gale, KLAS president. "Thus, a growing number of providers are weighing in on vendor performance. It speaks volumes that providers want to be heard and be counted. And vendors are listening."
"Our team has always been very dedicated to providing the highest level of customer service," said Joe Moock, CEO of StatRad. "This achievement reflects our ability to follow through on our promises and provide a service that is truly meeting the needs of our customers." Of the company's plans for the future, Moock said, "A Best in KLAS award is a sign that we are on the right track, but we will continue to look for ways to improve in the future."
The mission of KLAS is to improve healthcare technology delivery by honestly, accurately, and impartially measuring vendor performance for provider partners. Teleradiology Service firms are evaluated through customer surveys and interviews on 15 performance criteria that include questions about: Sales & Contracting, Implementation & Training, Service & Support and General Experience.
About StatRad
StatRad is a private, radiologist-owned teleradiology services provider. Since 1995, StatRad has been supporting radiology groups through nighttime teleradiology support. The company's proprietary internally-developed technology system was specifically Built for Teleradiology and provides customers with a customizable, user friendly interface. With a focus on innovation, StatRad has recently developed a teleradiology iPad App that allows customers to submit exams, review patient reports and QA reports anywhere, anytime.
About KLAS
KLAS is a research firm on a global mission to improve healthcare delivery by enabling providers to be heard and to be counted. Working with thousands of healthcare executives and clinicians, KLAS gathers data on software, services, medical equipment, and infrastructure systems to deliver timely reports, trends, and statistical overviews. The research directly represents the provider voice and acts as a catalyst for improving vendor performance. KLAS was founded in 1996, and their staff and advisory board members average 25 years of healthcare information technology experience. For more information, go to KLASresearch.com.