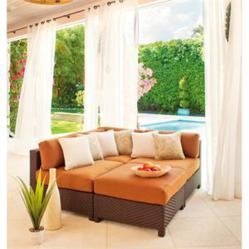 New 2013 Collections from Telescope Casual are now available at FurnitureForPatio.com
Chicago, IL (PRWEB) October 20, 2012
With the summer having come to an end, FurnitureForPatio.com looks forward to the upcoming season and is excited to be able to carry the newest collections from Telescope Casual; a manufacturer that remains committed to being an industry pioneer through the research and development of new and innovative products while still preserving their deserved reputation for high quality furniture. Joining the Telescope Casual catalog for the 2013 season are 5 new seating-based collections, two new lines of tables, and while not a collection, the new All MGP Adirondack Chair showcases the company's dedication to being environmentally friendly as they continue to utilize their genuine Marine Grade Polymer material which is made from recycled resins and no harmful substances. The MGP Adirondack chair is the epitome of comfort with its fanned back, spacious arms, and contoured seat, and is a great means of bringing Telescope Casual's style to the beach or pool side. Each of the new collections offered for sale at Furniture for Patio showcase how Telescope uses past and present to create future products. This furniture-forward thinking has led to some great new pieces that are sure to meet the wants and needs of consumers, with the company tackling the popularity of outdoor wicker, adding to their expansive selection of sling seating, and developing two new faux-stone table collections.
For the upcoming season, Telescope Casual's number of wicker collections doubles with the addition of Lake Shore and La Vie Wicker, both of which offer the company's modern take on traditional wicker. These transitional pieces will fit right at home in both contemporary and classic settings and are sure to blend well with your outdoor surroundings as they are offered in two new exclusive nature-complementing wicker finish colors: Driftwood and Java. The La Vie Collection is one of particular note as it combines the popular trends of outdoor wicker and sectional seating; boasting a set of wicker modular units that will allow consumers to create a seemingly endless variety of seating arrangements. The La Vie Wicker collection is the second sectional collection available from Telescope Casual and it comes at a time where it will capitalize on the success that the Brio MGP Sectional collection has seen in the past.
Both Lake Shore and La Vie also introduce the company's new Value quick shipping cushions, which come in 4 colors: Linen Champagne, Canvas Teak, Linen Sesame, and Canvas Brick, that are designed to pair well with the wicker frame and are guaranteed to ship in 10 days or less. The plush deep-seat style cushions of the Lake Shore and La Vie Wicker collections are available in all of Telescope's standard fabric color options as well, and as has been used in the past, the modular units of the La Vie Collection and the sofa, love seat, arm chair, and swivel glider of the Lake Shore Collection (as well as cross collection end and coffee tables) make use of Telescope Casual's high quality resin wicker material which captures the look of natural wicker but will not tear or crack for a snag free seat. These refreshing and exciting new Wicker Collections are sure to transform your patio into a stylish living space and offer the promise of holding up season after season.
In following with the theme of catalog expansion, Telescope Casual also brings three new sling seating collections into the 2013 season, all of which feature the company's weather-resistant traditional or padded sling and exceptionally durable powder coated aluminum frame. Offering variations on a casual, modern style, the Aruba II, Dash, and Ocala Sling are ideal for everyday outdoor use as they are low-maintenance and easy to clean, and many of the seating options are made to stack for easy storage when not in use. The Aruba II Sling Collection is a new creation that combines the best elements from the original Aruba and Oceanside Sling collections respectively, creating a new array of chairs that capture that beachside vibe of a care-free fun-filled day. Aruba II also offers up the largest number of seating options (14) of the three new sling collections, promising a chair for almost every occasion/patio set. On the opposite end, the Dash Sling collection is the most selective collection, with 3 attractively designed sleek seating options available for sale, all of which are geared towards the younger generation. Virtually maintenance free, modernly styled, and affordable make this sling collection great for those looking to furnish their very first patio, and their size makes them ideal for use where space is limited. Falling in between with 7 different chairs (ranging from standard to high back style,) the Ocala Sling collection is one that offers the same sense of casual comfort as other sling collections, but with its decorative cast finials it provides a touch of class as well. These three new to 2013 sling collections promise to uphold the tradition of Telescope's past sling collections, providing a comfort seat that is also made tough and reliable, as well as pave the way to future designs and innovations.
With these new seating collections also comes two new lines of faux-stone table tops, a never before seen style within the Telescope Casual catalog. The Stone-Tech and Terra-Stone Top Tables are designed to offer a defined and powerful beauty to your outdoor living space, and each provides a variation on their portrayal of a natural stone look. The Stone-Tech Tables, which range from end table to bar height in size, offer a unique smooth marble-like surface that comes in three pattern colors: Florencia, Truffle, and Luna Pearl (samples of these colors can be seen at http://www.furnitureforpatio.com). Amongst this collection, Stone-Tech offers up three different dining height tables, one 45 inch square and two rectangle dining tables one suited for seating 6, the other for 8 people. There are eight table choices in all that make up the Stone-Tech Tables collection, doubling the more selective collection that is Terra-Stone. With the Terra-Stone Top Tables you get a more rough and/or chiseled stone look to your table top surface, and the collection covers end table, coffee table, and two dining table options (round or rectangle.) The Terra-Stone Tables are also available in a few color options, four to be exact, and are offered in two distinct styles. The Dark Rock and Canyon Rock colors come with the more chiseled look, while the Natural and Earthtone Concrete colors are more subtly blended with a textured top. Both Stone-Tech and Terra-Stone collections include a straight-legged aluminum base that is designed to enhance the unique stone-like tops, and will serve to match most of Telescope's seating options (new and old alike.)
Keeping their 100+ years of tradition alive while always moving forward, Telescope Casual continues to develop, design, and deliver with its made in the USA products. In visiting http://www.furnitureforpatio.com you will be able to browse the new to 2013 collections from this great manufacturer as well as the rest of their catalog which consists of over 30 different collections.