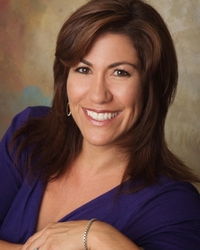 The Queen of Sales Conversion
La Jolla, CA (PRWEB) July 16, 2009
When it comes to making a successful pitch and landing that big sale most of us fall short. Many service professionals are full of passion for what they do. They want to host a winning introductory event or teleseminar, but lack the marketing skills to convince the client to buy on the spot.
Lisa Sasevich, "The Queen of Sales Conversion," has the secret to generating thousands of dollars doing what you love using teleseminars when you use her results-driven marketing system. She says the preview teleclass is one of the least expensive (and most effective) ways to attract business and increase profits. Lisa created a seven-figure business in less than three years using teleseminars and The Invisible Close sales methodology that does all the selling for her.
"It all revolves around the preview teleclass," Lisa says. "You already know how to put on a successful teleseminar. I don't want you to miss the boat when it comes to generating sales. I can teach you to create a preview call that will triple your profits and consistently create five and six-figure launches."
Her teleseminar, 5 Simple Secrets to 6-Figure Teleseminars: How to make BIG FAST MONEY doing what you LOVE, is free with limited availability. You'll need to sign up fast! When you do, you'll learn to craft a winning preview call, create an irresistible offer guaranteed to generate sales, and much, much more.
"I've built a 7-figure business in 3 short years applying what I know over and over again. And now I've got it down to a science! My simple formula works like magic. Not knowing this used to cost me thousands of dollars a month, but I'm going to teach it to you so you can quickly learn from my mistakes."
Lisa has an incredible record for success. Just ask her clients, many of whom were stuck hosting teleseminars with little or no results. That is, until they met Lisa.
Big Ticket Mentor Kevin Nations recently had a successful, 6-figure launch of The Money Talk teleseries with Lisa, which lead to over $1,000,000 of upsells just months later.
When Ali Brown launched her teleseries with Lisa, Simply Irresistible, nearly 200 people attended. At $500 a ticket, Ali and Lisa enjoyed great profits and continue to profit months later from the product they created in the process.
Check out 5 Simple Secrets to 6-Figure Teleseminars: How to make BIG FAST MONEY doing what you LOVE, Thursday, July 23, 4p.m. (EDT) Here's the link to sign up…
http://theinvisibleclose.com/sixfigureteleseminar
# # #