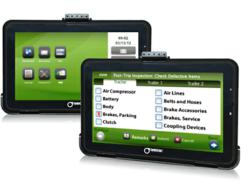 Our new electronic driver vehicle inspection reports make vehicle maintenance and compliance easy and accurate.
Garden Grove, California (PRWEB) April 03, 2013
Teletrac Inc.®, a 25-year veteran award-winning GPS fleet tracking and telematics software provider, today announced the release of its newest product offering, electronic driver vehicle inspection reports.
The product launch builds on the company's robust legacy of building solutions that strengthen fleets' compliance regulations. Teletrac's repertoire of FMCSA-compliant fleet solutions include electronic logbooks that help measure hours of service information as well as safety analytics software that helps monitor hazardous driving behaviors on the road.
Adding to that list of fleet intelligence solutions is Electronic Driver Vehicle Inspection Reports, which are federally mandated logs detailing vehicle operation and safety issues. Each fleet driver must complete and submit these reports on a daily basis. In fact, the Federal Motor Carrier Safety Administration (FMCSA) maintains that the top fleet safety violation is the failure to maintain vehicle inspection reports.
"Our new Electronic Driver Vehicle Inspection Reports make vehicle maintenance and compliance easy and accurate," said Drew Hamilton, Executive Vice President, Teletrac. "As an added benefit, the unit improves customer service by helping fleets continuously monitor the health of their vehicles. Not only does this improve safety, it saves fleets on their bottom line."
With driver vehicle inspection reports, management can identify specific compliance regulations and flag vehicles that require maintenance within Fleet Director. The constant attention to vehicle upkeep allows fleets to minimize unnecessary repair and service costs.
In addition, vehicle inspection reports can be easily archived for historical records. Teletrac's automation technology allows paperless submissions of both pre-trip and post-trip inspection reports. Users can complete, save and send their entire vehicle inspection report via the Fleet Director Tablet.The portability of both the 5" and 7" Fleet Director Tablet allows vehicles to conduct a comprehensive walk-around inspection.
Electronic Driver Vehicle Inspection Reports are the newest addition to Teletrac's Fleet Director intelligence platform, which utilizes tracking data to help reduce company costs and promote safety, compliance and productivity.
About Fleet Director® and Teletrac Inc.
Already proven and trusted by more than 20,000 fleets of all sizes and tracking more than 200,000 vehicles in 75 countries, Teletrac's Fleet Director software solution saves fleet owners time, money, and reduces their carbon footprint. Teletrac customers report up to 30% lower fuel usage, an average of 15% less driver overtime, 12% higher productivity and less unauthorized vehicle use.
Teletrac Inc. is headquartered in Garden Grove, CA. For additional information, visit http://www.teletrac.com, call 1-800-TELETRAC, or contact us via email at: djaconi(at)teletrac(dot)com.
SOURCE: Teletrac Inc.