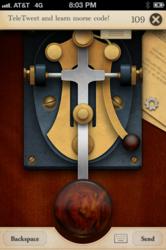 "We wanted to give our customers the feeling of sitting down at a telegraph office 150 years ago and tapping out a message to a faraway friend," said Chad Podoski, co-founder and chief designer at Shacked
Honolulu, HI (PRWEB) April 19, 2012
Shacked Software, Hawaii's leading developer of iPhone and iPad apps, today announced the release of TeleTweet, an all-new mobile app that allows iPhone, iPad, and iPod Touch users to send and receive Twitter messages via Morse code. TeleTweet is now available in Apple's App Store™.
Designed to preserve the look, feel, and sound of classic telegraph keys, TeleTweet integrates with Twitter to give users the nostalgic feeling of sending or receiving a telegram in Morse code. As messages are tapped on the realistic telegraph key, they are automatically translated into letters and numbers and published to your Twitter stream for your followers to read. For people you follow on Twitter, TeleTweet translates their messages into Morse code and prints them via an authentic 1869 Thomas Edison Ticker Tape Machine, as if you were receiving actual telegrams.
"We wanted to give our customers the feeling of sitting down at a telegraph office 150 years ago and tapping out a message to a faraway friend," said Chad Podoski, co-founder and chief designer at Shacked. "We spent a lot of time getting the look, sounds, and entire experience perfect before we felt ready to release TeleTweet."
TeleTweet offers simple, two-way Twitter messaging via Morse code, right from your iPhone , iPad, and iPod Touch.
● For outgoing tweets, simply tap your message in the dits and dahs of Morse code and TeleTweet instantly translates them into letters and numbers, and then publishes it to your Twitter stream for your followers to read as usual. With each tap, you hear the clanks and clacks of a 19th century telegraph key.
● For incoming tweets, TeleTweet automatically converts the tweets of those you follow into Morse code and prints out the messages via a realistic ticker tape machine.
In addition, TeleTweet offers iPhone, iPad, and iPod Touch users these other benefits:
● Learn Morse code, or use it to teach Morse code to others
● Have messages "read aloud" in Morse code
● Compose tweets with a single finger
● Save the cost of a telegram by using Twitter's free messaging service
Free Morse Code Cheat Sheet
Those who install TeleTweet before midnight on April 26, 2012, can access a free Morse code cheat sheet, designed in authentic steampunk style. To access the cheat sheet, simply follow @TeleTweetApp and use TeleTweet to create a Twitter message that includes the Twitter handle @TeleTweetApp. Once that message is received, users will be sent the access code to download the free cheat sheet.
A Fun Teaching Tool
"From a purely practical perspective, we built a fun app that will help people learn and teach Morse code," added Jason Skicewicz, co-founder and chief developer at Shacked. "TeleTweet takes something that millions of people do every day—sending Twitter messages—and turns it into an immersive teaching tool. The best way to learn any language is to put it into daily use. TeleTweet does that for Twitter's nearly 500 million registered users."
While satellite and radio communication technologies have prevailed, Morse code remains in widespread use still today, with applications in aviation, amateur radio, and assistive technologies that ease communication for people with disabilities. Morse code is typically learned using the Farnsworth method, which teaches users to send and receive letters by the sound of their respective series of dits and dahs. In North America, the American Radio Relay League still broadcasts a daily Morse code practice transmission.
Pricing & Availability
TeleTweet is now available for purchase for only 99¢ in the Apple App Store at: http://itunes.apple.com/us/app/teletweet/id424450546?mt=8
Additional Information
For additional information about TeleTweet, including screenshots, a demo video, and more, please visit http://www.teletweetapp.com