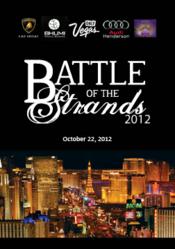 Televisa is always looking for strategic synergistic partnerships to engage our audience and clients, Vegas Beauty Unbound brings all these elements and we are looking forward to a rewarding association
Las Vegas, Nevada (PRWEB) July 30, 2012
Vegas Beauty Unbound, producers of the epic salon competition, Battle of the Strands: Xtreme Beauty is pleased to announce a partnership with Televisa Publishing & Digital to provide exclusive media promotion for the event to the Spanish speaking community in the US and Mexico.
Per terms of the partnership agreement, Televisa Publishing & Digital will offer extensive media coverage and pre-event promotion of Battle of the Strands in print in two of its best-selling beauty and fashion magazines, Vanidades Magazine and Cosmopolitan en español Magazine, and via online on its Mujer Channel. As part of the partnership, Vegas Beauty Unbound will participate in the Cosmopolitan 40th Anniversary Bash Fashion Show in Las Vegas, while prominently featuring Televisa in multimedia promotion in advance of, and during the competition.
"This partnership opens our competition up to a whole new market," stated Erin Utter, Director of Operations for Vegas Beauty Unbound. "Latin America has a beauty industry that exceeds $65 billion a year, we believe this is a natural fit and tremendous opportunity for our competition to grow."
"Televisa is always looking for strategic synergistic partnerships to engage our audience and clients, Vegas Beauty Unbound brings all these elements and we are looking forward to a rewarding association," replied Miguel A. Sanchez, West Coast Director of Sales for Televisa Publishing & Digital.
About Vegas Beauty Unbound
From October 20-22, Vegas Beauty Unbound will descend on Las Vegas with a three-day educational and networking event for the beauty and fashion industry. The centerpiece is Battle of the Strands: Xtreme Beauty, a head-to-head battle between the country's top and unknown salons featuring outrageous challenges to showcase creativity and teamwork. Additional activities include a spectacular runway show, a tradeshow of innovative industry products, a student competition, and Beauti Gras, a Mardi Gras style Halloween Party at Body English.
Other sponsors include Sponsors include the Las Vegas Convention and Visitor Authority (LVCVA), Lamborghini of Las Vegas, Audi Henderson, Bhumi Makeup Brushes, Schwarzkopf Professional, Stila Cosmetics, M3K Beauty & Izunami Hair Tools of New York, with more sponsors to be announced.
About Televisa Publishing & Digital
Televisa Publishing + Digital is the world's largest Spanish-language content creator, aggregator and distributor. Televisa Publishing + Digital publishes over 189 titles under 95 different brands with an annual circulation of over 174 million. Televisa Publishing + Digital's titles are #1 in market and audience share in most of its markets.
For More Information
For more information about the event, please contact Elena Long, Communications Director of Battle of the Strands, at 702/990-3368 or 702/612-0394, email elena(at)emailbestbeauty(dot)com or visit vegasbeautyunbound.com