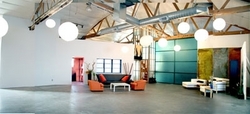 Best stage experience I have had in the past 20 years.
Los Angeles, CA (PRWEB) January 13, 2009
North Hollywood's Film Location Los Angeles now has several properties available for rent. Unlike other small film studios for rent, Los Angeles area Film Location Los Angeles combines the look of residential lofts with the features of modern sound stages and television studio sets. The location is ideal for reality shows, infomercials, even photography shoots, and will include a 30'x 40' two-wall cyc in the upcoming weeks.
Conveniently located in North Hollywood, Film Location Los Angeles is minutes away from the Burbank Media district and provides film production facilities totaling over 18,000 square feet and parking for over 80 vehicles. Goathouse Loft, Goathouse Annex, TTS Loft and Studio A are available for both daily and long term productions.
The 4,200 square foot Goathouse Loft and 58,000 square foot TTS Loft feature Cam-Lok electrical hook ups, 500 amps of available power, 13 tons of air-conditioning, large styling and make-up areas as well as a craft services kitchens and space for production offices. Each have ground floor access, including two 10 foot cargo doors and 5000 square foot of parking lot with room for trucks, gennys and trailers. Production designers will find that Goathouse Loft is the perfect solution for an interior loft location with working fixtures, flats, decor and props.
Goathouse Loft is the kind of hybrid that film, television and multimedia companies often need for their projects. Caren Dunn of Make It Happen Productions described Goathouse Loft as the "Best stage experience I have had in the past 20 years."
In addition to the Goathouse Loft, Studio A, located directly across from Goathouse Loft, provides a 1500 square foot space that can be used for filming or for production offices, green room, extras holding area or even catering. It is well insulated, air-conditioned and equipped with a small but stylish kitchen and features 200 amp Cam-Lok hook -ups, Wi-Fi and fax line as well as black-out capability.
The 7000 sq.ft. Annex, located directly adjacent to Goathouse Loft, will be available this February as an open stage when a larger space is required to build sets for your production. The Annex has 800 amps of power, 23 tons of air-conditioning, 16' ceilings, three 10' cargo doors, and access for trucks as large as 40 tons. A 30'x40' two-wall cyc and lighting grid is scheduled to be built.
For more information on these production studios, please visit FilmLocationLosAngeles.com.
About Film Location Los Angeles:
Conveniently located in North Hollywood, Film Location Los Angeles combines production studios and sound stages with the natural look of an actual residence. It provides television and film studios with easy access to a residential set that includes make up and styling areas, space for craft services and other conveniences. It is one of the most versatile small film studios for rent Los Angeles has to offer, perfect for interior scenes, reality shows and even infomercial shoots.
###