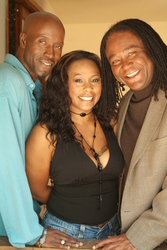 new tasty thrills in a whole different kind of glass.
Los Angeles, CA (PRWEB) October 2, 2007
Pax Stereo Tv is becoming the music industry's hottest party ticket by showing artists and labels how to merge video and blogging with social networking. The Promote Yourself page now openly invites artists and fans to join virtual communities, make profiles, and upload videos, photos, and mp3 files.
This new player is definitely serving up a new kind of bling. CEO Mario Hemsley calls it "new tasty thrills in a whole different kind of glass." The idea is to be habit forming, something reflected in the website's relatively long visit times. "Pax Stereo Tv is for people who want something different from the norm, from the people who understand what it is you want. We are continuing to redefine our community, and we know that you are part of that process. That is why we encourage you to join our channels, where you can upload and promote yourself just like at MySpace, YouTube, and others. Only here you can put your video right there next to the stars you admire, and we will even help you." Channels also include a send-to-mobile feature that allows viewers to forward videos from the channels right to mobile phones, a feature yet to be added to competing video sites. Technology here is state-of-the-art.
Connecting channels with MySpace and other social networks comes easily here. "We have the hottest stars and channels filled with historical and musical legends", points out Program Director Victor Allen, who actively manages over seventy MySpace profiles. "Our MySpace AutoConnect Widget links channels with artist MySpace profiles to provide a seamless connection, but nothing would be the same without the interaction from our community."
New additions feature celebrities, DJs, and even channels dedicated to ballers Tiki Barber and Kevin Garnett. "This is a love movement, and all about empowerment. That is why we keep our batteries fully charged. You can sit around and wait for the labels to decide what you need and when to do it, or you can get involved. This is an opportunity and a wakeup call"
Pax Stereo Tv continues to feature independent artists and labels, and is still actively recruiting relative unknowns. Mario points to the How To Use Us page as an example of efforts to show frustrated artists and labels the way. "Don't give up. Don't let go. Just come on down and visit Pax Stereo Tv. We are the Nu New."
###