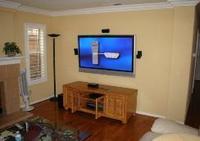 Atlanta, Ga. (PRWEB) October 9, 2007
HD Installers: Home Theater Installation, the leading independent big screen installer, has just been awarded Planet Installation's prestigious 2007 Home Theater Installation Company of the Year Award for providing the best home theater and big screen installation service in every state they offer service.
Ralph Herrin Director of Planet Installation says, "We got over 150,000 customer responses for our 2007 Home Theater Installation Company Of The Year Award. We compared services from every major retailer, local installers, and nationwide companies and HD Installers won in every state they offered service in. It was clear in the feedback we received that HD Installers values customer satisfaction more than any other professional installation company."
Russell Forriester - General Manager of HD Installers says, "HDInstallers.com has continued to provide outstanding services by using only certified installers. While new 'certification' services come out that don't mean anything more than they are paying someone money we make sure all our techs spend months of training per year and have passed certification with companies like PlanetInstallation.com and others. Every big box electronic store who sells electronics is now trying to offer installation services for big screen plasma and lcd televisions and they are failing because they are not using professional certified home theater installers that really care about the customer. With every home theater or big screen television installation performed by our installation crews we follow up with a contact with the customer to make sure they are satisfied with every aspect of the installation service. If they aren't happy we make them happy. We pride ourselves on old style customer service."
About HD Installers: Home Theater Installation
HD Installers specializes at plasma television installation, LCD TV installation, HDTV calibration and surround sound installation.
Visit our web site at http://www.hdinstallers.com or our gallery more information about our Plasma and LCD TV installation services. HD Installers also provides commercial and industrial IPTV Installation, LCD TV, and Plasma TV installation services
###