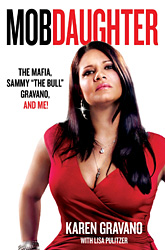 Washington, DC (PRWEB) February 17, 2012
RealityAired.com announces the 'Mob Daughter: The Mafia, Sammy "the Bull" Gravano, and me!' book giveaway. RealityAired.com is giving away two copies of "Mob Daughter" to two lucky fans - a signed copy of the book, our grand prize, and an audiobook.
Entrants must be 18 years of age and have a US mailing address. Only one entry per valid email address and/or household. Deadline for entry is February 24, 2012. To be considered fans can submit official entries at RealityAired.com's Facebook page. Two winners will be selected at random.
The book, 'Mob Daughter: The Mafia, Sammy "the Bull" Gravano, and me!', is a memoir from Karen Gravano, who stars on the hit VH1 show "Mob Wives." In the memoir, Gravano details growing up with a father who was one of the most feared underbosses in the infamous Gambino Crime Family. Karen shares with readers and fans her unusual childhood and tough teenage years, especially after being ostracized by the same community her father was once a leader of.
About RealityAired.com
RealityAired.com has up to the minute information (24/7), news, photos, videos and recaps on some of the most popular reality TV shows on air today. From the Jersey Shore to The Real Housewives, RealityAired.com covers everything that is need- to- know for reality TV viewers and addicts alike.
About Valdez Media
Valdez Media, Inc. was founded in early 2011. Valdez Media aims to create a network of entertainment avenues for a variety of audiences that cover television, film, sports, music and fashion. Valdez Media, Inc. is based out of the Washington D.C. metropolitan area.
# # #