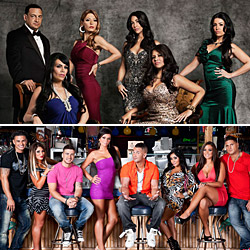 Washington D.C. (PRWEB) January 02, 2012
This January RealityAired.com will cover two of the most popular reality TV shows when VH1's Mob Wives returns for a second season as well as Season 5 of MTV's Jersey Shore. RealityAired.com will provide recaps of every show and news relating to both series throughout their respective seasons.
Mob Wives returns with a major bang as rivalries continue into Season 2. Two new cast members Ramona Rizzo, granddaughter of Benjamin "Lefty Guns" Ruggiero who was portrayed by Al Pacino in the film Donnie Brasco, and Angela Raiola aka "Big Ang" are added to the mix. All original cast members, Renee Graziano, Carla Facciolo, Drita D'Avanzo and Karen Gravano will all return. A plastic surgery operation gone wrong, deteriorating friendships and family issues are all at the core of the second installment of the show.
An exclusive interview with Mob Wives cast member Renee Graziano on RealityAired.com this December provided readers with a look at what to expect from the upcoming, explosive new season.
RealityAired.com will also cover Season 5 of the MTV smash hit Jersey Shore. The new season will pick up right after Season 4, filmed in Italy, as the cast heads back to the "Shore". Popular cast-members like Nicole "Snooki" Polizzi and Mike "The Situation" Sorrentino, whom audiences have a "love-hate" relationship with, will pick up where they left off last season. Storylines to watch for this season are Snooki continues to deal with boyfriend issues, the house members must figure out a way to get along with "The Situation" and one cast member might leave for good.
About RealityAired.com
RealityAired.com has up to the minute information (24/7), news, photos, videos and recaps on some of the most popular reality TV shows on air today. From the Real Housewives to Teen Mom, RealityAired.com covers everything that is need-to-know for reality TV viewers and addicts alike.
About Valdez Media
Valdez Media, Inc. was founded in early 2011. Valdez Media aims to create a network of entertainment avenues for a variety of audiences that cover television, film, sports, music and fashion. Valdez Media, Inc. is based out of the Washington D.C. metropolitan area.
# # #