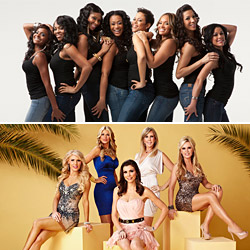 Washington DC (PRWEB) February 01, 2012
This February RealityAired.com will cover four of the most popular reality TV shows, including Bravo's The Real Housewives of Orange County which returns for a seventh season, Style Network's Jerseylicious season four, E!'s Khloe & Lamar season two and VH1's Basketball Wives season four. RealityAired.com will provide recaps of every show along with breaking news relating to each series and its stars throughout the season.
The Bravo original series that started the hit franchise, The Real Housewives of Orange County, returns with season 7 on Tuesday, February 7th. This season the ladies welcome new cast member Heather Dubrow who is a former actress turned plastic surgeon's wife. Season seven will also feature the original OC housewife, Vicki Gunvulson, going through the finalization of her divorce from Donn, along with introducing a new boyfriend who family and friends are wary of.
Jerseylicious is back with season 4 on February 19th with new faces at the Gatsby. With the emergence of new relationships the new season is sure to be sensational. There will also be major competition between former partners Gayle Giacomo and Anthony Lombardi. RealityAired.com will feature exclusive interviews with stars from the cast as well as up-to-date information regarding the love lives of main cast-members Tracy DiMarco and Gigi Liscio.
Khloe & Lamar returns on February 19th with season two of E!'s hit reality show. After an unexpected trade from the Los Angeles Lakers to the Dallas Mavericks Khloe Kardashian & Lamar Odom have to adjust to a life in Texas and find a home. Returning for a second season will be Khloe's brother, Rob Kardashian plus an appearance from Lamar's father.
Vh1's Basketball Wives returns for season 4 as the ladies bring the feuds to a whole new level in this installment. The drama at the center of this season is between former best friends turned enemies, Jennifer Williams and Evelyn Lozada. Along with major battles, two new cast members have been added to the line-up, Kenya Bell and Kesha Nichols. RealityAired.com wil provide episode recaps, breaking news, video previews and exclusive gossip regarding the season's drama and cast-members.
RealityAired.com will cover each show and it's cast by providing up-to-the-minute information, photos, interviews, episode previews and episode recaps.
About RealityAired.com
RealityAired.com has up to the minute information (24/7), news, photos, videos and recaps on some of the most popular reality TV shows on air today. From the Jersey Shore to The Real Housewives, RealityAired.com covers everything that is need- to-know for reality TV viewers and addicts alike.
About Valdez Media
Valdez Media, Inc. was founded in early 2011. Valdez Media aims to create a network of entertainment avenues for a variety of audiences that cover television, film, sports, music and fashion. Valdez Media, Inc. is based out of the Washington D.C. metropolitan area.
###