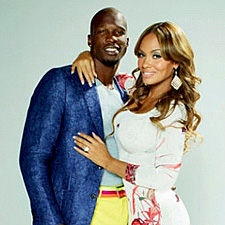 New York, NY (PRWEB) August 03, 2012
After one of the most chaotic and most talked about seasons of 'Basketball Wives' Evelyn Lozada is looking forward and moving on. On Monday, September 3rd fans of Evelyn will watch as she steps into a new chapter of her life - the premiere of Ev & Ocho - which these days include a lot less "dinner dates" with women and more quality time with Chad Johnson.
RealityAired.com's Lisa Irizarry recently spoke with Evelyn Lozada, soon to be Evelyn Johnson, and learned the reality superstar and author has grown personally from watching herself on television. It's "like my mirror" Evelyn says about seeing herself in certain situations.
Evelyn is looking forward to showing viewers more of her life with Chad Johnson when 'Ev & Ocho' premieres next month. "You'll get to see the ups and downs of our relationship and what I do on a regular basis" Evelyn tells RealityAired.com. Reality fans will watch the superstar couple's journey from the planning stages of their wedding up until the big day on July 4th.
Also in the interview; Evelyn shares her thoughts on having a baby with Chad. When will it happen?.
Read the entire interview on RealityAired.com.
About RealityAired.com
RealityAired.com has up to the minute information, news, photos, videos and recaps on some of the most popular reality TV shows on air today. From Jersey Shore to The Real Housewives, RealityAired.com covers everything that is need- to-know for reality TV viewers and addicts alike.
About Valdez Media
Valdez Media, Inc. was founded in early 2011. Valdez Media aims to create a network of entertainment avenues for a variety of audiences that cover television, film, sports, music and fashion. Valdez Media, Inc. is based out of the Washington D.C. metropolitan area.