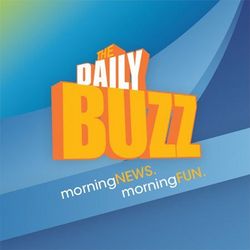 School/College of the Year
Winter Park, FL (PRWEB) September 5, 2008
The Daily Buzz (http://www.dailybuzz.tv), a nationally syndicated morning talk show owned by ACME Communications, and award-winning Full Sail University, (http://www.fullsail.edu) announce today the exciting culmination of a design contest that began in 2007 to redevelop the image and branding of the popular television program using only students from Full Sail. The new show image, logo and website (http://www.dailybuzznow.com) launches September 8, 2008 nationwide.
Doug Gealy, President and C.O.O. of ACME Communications said, "This is one of the most exciting ways we have expanded upon our relationship with Full Sail University. This endeavor has far surpassed any of our expectations. The student design teams wowed us from the start from their storyboard presentations to their final product."
The Daily Buzz accepted proposals from Full Sail University student teams representing degree programs campus-wide including: Digital Arts & Design, Computer Animation, Graphic Design, and Entertainment Business. Students competed within two phases of competition - the first part requiring students to submit a new logo design and storyboard, and the second requiring an animated show open and logo design building from the original logo selected.
After each phase of competition, the winning teams were chosen and those students will be featured on the show the week of the launch, receive name credits for both the television broadcast as well as The Daily Buzz website, and have significant professional credits for their portfolios before graduation.
"Broadcasting live from the Full Sail University campus provides us with motivated student talent which is at the heart of a unique creative collaboration," said Steve Bailey, VP of Marketing and Promotions for The Daily Buzz. "We are excited to do something that we think has never been done before which is to launch a complete image redesign for a forward-thinking younger audience of a national television program without an outside design or marketing agency, and instead allow students of that exact demographic to present their fresh perspectives and original vision."
The Daily Buzz relocated to the Full Sail campus in June 2007 and currently
 airs on 149 stations, including all of ACME's CW Network affiliated stations and their My Network TV affiliate, The CW 100+ Cable Group, as well as many of the
 CBS-owned CW stations. The program currently reaches approximately 50
 percent of U.S. households, reaching 53 million television households, 
informing and entertaining over 135 million people. The original and continual goal of the show is to reach younger viewers who had all but abandoned the standard morning news format. The morning show soon became a refreshing alternative that targeted this highly coveted demographic and features an informal programming style where hosts share their personal opinions, listen to viewer feedback on-air, and take a more lighthearted approach to today's current events and hot topics.
Due to the real world approach to education at Full Sail University which features a professional class structure of 8-12 hours per day and a 24-hour around-the-clock schedule that earned Full Sail the Most Innovative Program Award by the Florida Association of Postsecondary Schools and Colleges, welcoming The Daily Buzz to campus was a natural fit. "Offering students a chance while still in school to deliver a completed work product to a professional and national outfit like The Daily Buzz is an amazing opportunity and truly a credit to the caliber of our students, their teachers, and our real world philosophy," said Ken Goldstone, C.O.O. of Full Sail University.
About The Daily Buzz
Preparing to enter its seventh TV season, The Daily Buzz is an alternative morning news and variety talk show targeting younger TV viewers. The Daily Buzz delivers the latest in entertainment, products, technology and fashion, as well as national and local news and weather in an informative and fun, yet personal style. The show created in 2002 by parent company ACME Communications is currently broadcasting in 149 markets covering 50% of the nation and reaches 53 million TV households.
About Full Sail University:
Since 1979, Full Sail University, located outside of Orlando, FL, has been an innovative educational leader for those pursuing careers in the entertainment industry. With over 29,000 alumni, graduate credits include work on Oscar, Emmy and GRAMMY-winning projects, best-selling video games, and the #1 grossing U.S. concert tours. Full Sail's 190-acre campus proudly welcomes over 6,000 students from 50 states and 50 countries.
Full Sail currently offers a total of sixteen degree programs including: Associate of Science Degrees offered in Graphic Design, Recording Arts and Show Production & Touring; Bachelor of Science Degrees offered in Computer Animation, Digital Arts & Design, Entertainment Business (online and on-campus), Film, Game Art, Game Development, Internet Marketing (online), Music Business and Web Design & Development; and Master of Science Degrees in Education Media Design & Technology (online), Game Design (online), Entertainment Business (online and on-campus) and Internet Marketing.
Full Sail was most recently was named the 2008 "School/College of the Year" by the Florida Association of Postsecondary Schools and Colleges. The university has also been named: The Harvard of Game Schools by Tips & Tricks Magazine; one of the top three New Media Schools by Shift Magazine (alongside the Massachusetts Institute of Technology and New York University); one of the Top Five Game Degree Programs in the world by Electronic Gaming Monthly; one of the Best Music Programs in the country by Rolling Stone Magazine; one of the Best Music Business Departments in the Schools That Rock: The Rolling Stone College Guide; and one of the Best Film Programs in the country by UNleashed Magazine.
For more information about Full Sail, please visit http://www.fullsail.edu.
###