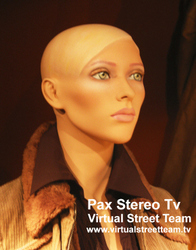 virtual or real, human-powered or robots, it's all good to us and great for the consumer.
Los Angeles, CA (PRWEB) January 21, 2008
Pax Stereo Tv (http://www.paxstereo.tv) is at it again. After building a number of Internet television networks using "robot autochannel" search technology, Pax Stereo Tv has continued their expansion by adding human-powered widget guides to search and access online video. Staffed by a global team of editors who are constantly categorizing and filtering content, these state-of-the-art human-powered elements are provided by developer, WeShow.
WeShow (http://www.WeShow.com) is part of the current video revolution occurring on the web, and offers a unique portfolio of video widgets customized for a variety of countries and cultures. By providing "a human-powered entertainment guide", WeShow simplifies the process of finding and viewing your favorite videos and also adds a human touch. But the WeShow widgets allow for much more than a great viewing experience. Pax Stereo Director of Marketing and Promotion, Victor Allen explains. "WeShow allows Pax Stereo Tv expansion into international territory, and because of them we are now offering programming for consumers in Germany, France, Spain, United Kingdom and Brazil." CEO Mario Hemsley agrees. "While we are not affiliated with WeShow, and the same widgets we use are available to all, we still feel that because of the WeShow widget we are able to offer many of our international visitors a unique experience in their own language. The benefits are obvious."
The Human-Powered Tv page (http://www.paxstereo.tv/human-poweredtv.htm) has full information and a drop down menu of video playlists gathered from the most popular video sites, such as YouTube, Metacafe, Google, MySpace, Dailymotion, and more.
After working in an almost exclusively virtual reality, and building a competent collection of virtual staff, adding these new human-powered elements can be unsettling to some. Mario is quick to dispel rumors of infighting between members of the virtual staff. "Any change can be perceived as threatening, but we are doing everything to ensure a smooth transition of services. Our virtual staff is still our backbone, and continues as our main source of Internet television programming." Further comments from staff are encouraged, and will be made available on the website. Victor adds, "virtual or real, human-powered or robots, it's all good to us and great for the consumer."
Pax Stereo Tv is still offering complimentary services to those affected by the current Writers' Strike. More information is available at the Writers' Strike Channel (http://www.paxstereo.tv/artist_pages/writers_strike.htm). Additionally, the .Tv URL Giveaway program (http://www.paxstereo.tv/url_giveaway.htm) continues to be active with plans to bring over 300 new artists to the world of Internet television. Please contact Victor Allen for more information.
###