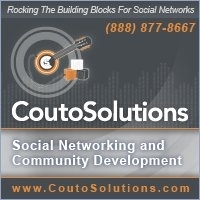 Rocking the Building Blocks for Social Networks.
San Luis Obispo, CA (PRWEB) October 9, 2009
Couto Solutions launches a completely new product and services lineup that is built around the brilliant Telligent Community Server Social Media Platform. Couto Solutions CEO, Justin Couto says, "About two and a half years ago we made a conscious decision to seek out and find a web publishing platform that would allow us to quickly build branded, scalable, modern web site applications that contain all of the features required by the Web 2.0 era of corporate collaborative web sites. That search led us to Telligent's Community Server Platform and we have never been happier." Couto Solutions has since built a plug-in system for Community Server and several product building blocks (plug-ins) that extend the Community Server Platform's functionality. Listed below is a brief description of their initial offering and how these products and services can lead to more successful social media driven web presences.
Brief Explanation of the Community Server Platform
Telligent's Community Server is a web publishing platform that provides all the modern features organizations come to expect in a web presence right out of the box. It includes Blogs for distributing articles and information, Forums for having conversations and customer interaction, Media Galleries for managing files (video, audio, etc), Content Management for managing page content, and Wikis for managing documentation and information. Did I say that comes out of the box? As you can see, it is a great starting point that can be scaled almost infinitely.
Couto Solutions Product Lineup for Telligent's Community Server
Once Couto Solutions started building custom web sites on top of the Telligent Platform, they quickly realized that many of the customizations they were developing could be repurposed for other clients. As a result, they decided to start offering products for the platform. Below is a list of what they currently offer and they are just getting started:
Paid Support for Community Server
Paid Support™ is the Couto Solutions' Building Block that brings total Professional Support Management to the Telligent Community Server Platform. If you need a way to charge for online support, this is the solution for you. Paid Support is perfect for any organization looking to offer paid support packages to their clients.
Private Community for Community Server
Private Community™ is Couto Solutions' Building Block that brings Paid Membership to the Telligent Community Server Platform. Private Community is ideal for any organization that would like to provide a subscription based community that requires a member to purchase a membership to access the site's social content.
Community Donate for Community Server
Community Donate™ is the Couto Solutions' Building Block that brings Sponsorship and Donation Management to the Telligent Community Server Platform. Community Donate is ideal for any organization or online community that depends on member donations and sponsorships. This is a great solution for non-profits that would like to automate their sponsorship and donation process.
Secure Checkout for Community Server
Secure Checkout™ is Couto Solutions' Building Block for secure online financial transactions inside of the Telligent Community Server Platform. Secure Checkout™ is the payment processing system for all Couto Solutions' Building Blocks that utilize secure online transactions. Secure Checkout for Telligent Community Server offers a world class user experience from shopping cart to receipt.
Post Tracker for Community Server Forums
Post Tracker™ is the Couto Solutions' Building Block that brings the ultimate post tracking experience to the Telligent Community Server Platform. Post Tracker is designed for niche social networks that desire an easy way to read the next unread forum post in a topic right upon visiting the site. Post Tracker makes locating and reading unread posts very similar to the read/unread experience you get in an email client.
Community Promote for Community Server
Community Promote™ is an Add-On for Couto Solutions' Secure Checkout Building Block and is designed to be the ultimate promotional tool for the Telligent Community Server Platform. Community Promote is a promotional coupon generation tool that allows you to create single or multiuse coupons that can be emailed, printed, tracked, and redeemed on your web site.
Directory Connect for Community Server
Directory Connect™, the Add-On for Couto Solutions' Secure Checkout Building Block, is a robust membership directory system that makes it easier for community members to connect. Directory Connect takes advantage of the extended data provided by Secure Checkout to allow members to perform permission based geographic, name, and address searches for other members in their social network.
Couto Solutions Services Offering
Over the past couple of years, the Couto Solutions team has become experts on the Telligent Platform and decided that they wanted to share that knowledge with you through their services offering. As a result, they are now offering Community Server Hosting, Telligent Support, Community Server Branding, Community Server Planning and Consulting, and Community Customization. Couto Solutions truly is a full service Telligent shop.
Couto Solutions' The Perfect Fit
Couto Solutions' target market is medium to large corporate organizations, large college alumni associations, musicians, bands, Hollywood stars, and niche Social Networks. Couto Solutions is the ideal company to develop custom branded social media websites that offer a real sense of community, collaboration, and management. They can deliver a strategically planned, cross media branded (Twitter, Facebook, Your Site) presence for all organizations. To achieve these goals they have an amazing design team, a genius development team, fabulous information architecture team, a suite of functionality building blocks, and an amazing platform to make it all come together. Like they say in their mantra, they truly are "Rocking the Building Blocks for Social Networks." But don't take our word for it, checkout their site which is listed below. Couto Solutions talks the talk and walks the walk as their own branded Telligent Community Server site speaks volumes as to what they can do for you.
To learn more about Couto Solutions connect with them via:
Phone: (888) 877-8667
Web Site: http://www.CoutoSolutions.com
Twitter: CoutoSolutions
# # #