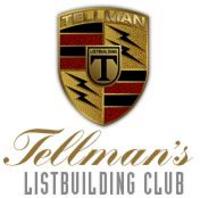 'Super-Sonic List Building' 6 Steps To Building A Profitable Online Business From Scratch
Brattleboro VT (PRWEB) August 23, 2007
What's Going On? On August 8, Tellman Knudson of Overcome Everything, Inc. threw open the doors of his new "Tellman's List Building Club," where new online marketers can not only learn the ropes, but see how to set up their own online business, step-by-step through a series of videos, articles, audios, and more.
A free trial into the club is being offered as a bonus to a giveaway CD with Tellman Knudson and fitness expert, Kyle Battis, which discusses Battis's success following Knudson's simple-to-follow strategies for building an enormous list of subscribers.
Other bonuses included with this free CD include a special report, entitled "'Super-Sonic List Building' 6 Steps To Building A Profitable Online Business From Scratch," a free 30-minute consultationwith an Overcome Everything list building expert, and a mind map showing the exact steps to building your list online.
For more information, contact Sarah Knudson, Customer Support Manager of Knudson's company, Overcome Everything, Inc. to set up an interview at 888-563-1163 X104 or visit the website at http://listbuildingpower.net
About Overcome Everything, Inc.:
Founded in 2004, Overcome Everything, Inc. began when Tellman Knudson found himself rocketing to Internet Marketing fame and fortune with his List Crusade, a series of teleseminars that he recorded with some of the biggest marketing names in the business. Since then, the corporation has released a series of "My First" products to assist new marketers in getting started in making money online and has become one of the leading young companies in the business, known for cutting-edge, daring tactics that get stunning, check-cashing results.
Contact:
Sarah Knudson, Customer Support Manager
Overcome Everything, Inc.
888-563-1163 X104
http://listbuildlingpower.net
###