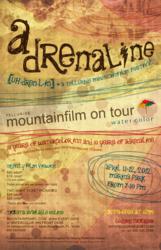 WaterColor Inn & Resort will host the first "best of the best" at this 10th Year Anniversary Party for the resort in an outdoor setting that enhances the bold imagery of these remarkable stories
Santa Rosa Beach, Florida (PRWEB) March 05, 2012
Telluride MountainFilm Festival On Tour returns to WaterColor Inn & Resort April 11-12, 2012 at the Marina Park Amphitheater, with two days of extraordinary action films to get your adrenaline pumping. WaterColor Inn & Resort will host the first "best of the best" at this 10th Year Anniversary Party for the resort in an outdoor setting that enhances the bold imagery of these remarkable stories.
Each year a selection of films from the International Film Festival are taken on the road to reach audiences who otherwise wouldn't have a chance to experience the festival. "This is a great chance to enjoy these adrenaline pumping films under the stars at the beach," says Patrick Murphy, General Manager. "These films will get you up and moving and jumping out of your seats with excitement. Wild rapids, snow covered mountains and rocky trails will send you to the peaks and beyond."
This spring, guests who stay at the WaterColor Inn during the Adrenaline a Telluride MountainFilm On Tour can take advantage of the great Telluride MountainFilm On Tour package, at the WaterColor Inn, two complimentary tickets to both Wednesday and Thursday evening shows, as well as complimentary use of bikes, canoes, kayaks, fitness facilities.
Show times are April 11 – 12, 2012, 7:30pm – 10pm at the Marina Park Amphitheater. Tickets are available on line for $20 per night or $35 for a two day pass at http://www.watercolorresort.com. Tickets purchased at the door are $25 per night or $45 for a two day pass. Proceeds will benefit the Walton County Habitat for Humanity.
About WaterColor Inn & Resort
WaterColor Inn & Resort has a long list of awards and accolades: Selected in 2012 as a Conde' Nast "Gold List" recipient and AAA Four Diamond Award along with the 2011 awards for a "Top 20 Family Resort" in Andrew Harper's Hideaway Report and 12th best in Condé Nast Traveler's "Top Mainland U.S. Large Resorts". WaterColor has also been recognized as one of the top 30 in Travel + Leisure's "Best Beach Hotels in America" & "Top 500 Hotels in the World"; selected as second best by readers of Travel + Leisure in the "Top 50 World's Best Family Hotels and Cruises in the U.S. & Canada" and the "Top 500 Hotels in the World" in 2009 and 2010; voted number 15 in the "Top 100 Mainland U.S. Resorts" by readers of Condé Nast Traveler in 2010 ; and "Best Hotel in Florida" by the readers of Travel + Leisure in 2007.
The WaterColor Inn & Resort offers luxurious accommodations at both the exclusive 60 room Inn and well appointed residences and charming cottages. The resort has award-winning dining at Fish Out of Water, a full service spa, Kids Camp, golf, tennis, biking, kayaking and fishing. WaterColor Inn & Resort is managed by Seattle-based Noble House Hotels & Resorts and developed by The St. Joe Company. For more information about WaterColor visit http://www.watercolorresort.com or call 866-426-2656.
About St. Joe
The St. Joe Company, a publicly held company currently based in Jacksonville, is one of Florida's largest real estate development companies and Northwest Florida's largest private landowner. St. Joe is primarily engaged in real estate development and sales, with significant interests in timber. More information about the Company can be found on its website at http://www.joe.com.
###