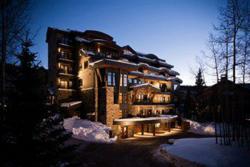 "Like being home before you have to return home."
Telluride, CO (PRWEB) February 22, 2012
Any skier will confirm that getting to the slopes of Telluride, Colorado, is a well-planned journey. But then, so will all bluegrass music lovers, wild mushroom seekers, wine aficionados, blues and beer devotees, and true film buffs. It's just a small mountain town, but the road into Telluride is one of the best traveled in the state. Telluride as a destination is very well known for different reasons in different seasons. Whether one goes for the dazzling snow sports in winter, the diverse festivals held all summer, or the eye popping star power of the Telluride Film Festival over Labor Day, now it's easier to plan and book a stay with the new and amazingly helpful website for lumiere telluride, a luxury boutique hotel in Telluride's Mountain Village.
For globe-trotting international travelers, Telluride was for a number of years known about but not on the routes. The town sits at the end of a box canyon, so there is only one way in and one way out. It's not on the way to anywhere, which made it quite popular back in the day for bank robbers and bandits like Butch Cassidy and the Sundance Kid. Even with mining and agriculture, Telluride was never a major metropolis in the Old West. But as time has changed the world, values have changed for those who travel. Those who go seek natural beauty, interesting things to do and of course,good food and memorable lodging. It's safe to say that a growing number of travel decisions are made after perusing the websites for destinations and for lodging accommodations.
With the help of a recent web redesign, a particular Telluride property has attracted a most welcome and entertaining clientele. Australians are some of the most prolific and exuberant travelers on the planet. Vacationers from Down Under have "been places" and they are discerning in their tastes. lumière telluride, the most intimate and luxurious boutique hotel in Telluride, has become a perennial gathering place for Aussies who come to the mountains of North America to escape their summer heat. "It's been such a pleasure to see the same faces return each January," said Kelly Wallace, Director of Sales and Marketing for lumière telluride. "Now we know to plan special ways to make our Australian friends feel welcome and at home with us." They tell their friends they appreciate the thoughtfully designed accommodations that range from a standard guest room to a four bedroom penthouse. Linens are 100% Egyptian cotton, kitchen appliances are top of the line, bath amenities are L'Occitane, and wi-fi is complimentary.
While each visit is unique, all return guests know there are some aspects of a stay at lumière telluride that can be counted on. As guests approach the magnificent stone façade, the valet who parks the car will first take them directly to their lodging. There is no check-in desk at lumière telluride, only the Concierge who has probably already arranged for dinners, massages, ski lessons, babysitting and any other requested service. Comfy chairs and couches surround two crackling fireplaces. In this ultra chic setting, the house restaurant serves fresh sushi, and the lumière telluride bar can pour or mix whatever the moment calls for. In the summer, cocktails and sushi are served outside at the relaxing patio area at the pool. Each morning begins with a European style breakfast that's quite a bit more than just a bagel and a banana. Room service is also available.
The luxurious lumière telluride has earned four stars for its beauty and its excellent service, but it remains intimate and focused on each guest's expectations. lumière telluride has been the center for family weddings, celebrations and reunions in all seasons. For those coming to Telluride for one of the famous events like the Bluegrass Festival in June, the Yoga Festival in July, or the internationally acclaimed Telluride Film Festival over Labor Day, lumière telluride will package festival tickets with lodging.
Just as the inimitable Australians have found the way in to one of Colorado's most storied destinations, with the new, more easily navigated and more complete website for lumière telluride, more international travelers will book online for their first visit . In future months, lumière telluride will have to offer Tim Tams™ in the lobby no matter what the season.
About lumière telluride
This intimate, luxury boutique hotel is one of the newest lodging properties in Mountain Village, directly on the ski slopes of Telluride Mountain and high above the fabled town of Telluride on the valley floor of the San Miguel River. It is walking distance to shops and restaurants, and to the free gondola that runs from early morning until very late at night so that guests can easily go back and forth between the two delightful activity hubs. Accommodations include hotel rooms, one, two, three and four bedroom residences and penthouses.Ownership information is available.
Contact information:
Kelly Wallace, Director of Sales & Marketing
lumière telluride
118 Lost Creek Lane
Telluride, Colorado 81435
970.618.8922
kwallace (at) lumieretelluride (dot) com
###