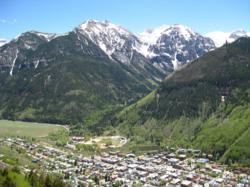 The River Club is such a wonderful, relaxing environment for us…. Every consideration and kindness seems to come easily to all who host us.
Telluride, CO 81435 (PRWEB) May 08, 2012
Who says there are no guarantees in real estate? Now, with purchase at the River Club in Telluride, Colorado, there is! With fewer than 100 ownership opportunities, Seller Urban River Club, LLC, makes the dream of vacation ownership in Telluride a reality and lifetime of enjoyment. Imagine having three years from the date of contract to sell back for the price paid! Broker associate Mitzi Mallard feels this is an incredible opportunity. "What other real estate purchase allows for a three year test drive!"
Telluride, a beautiful community located in the San Juan Mountains, is world-renowned for many reasons. First class skiing (top 10 in North America), amazing music festivals (Bluegrass, Jazz, Blues & Brews), and the Telluride Film Festival (which included nine of the films receiving Academy Award nominations and awards this year) name only a few. But Telluride is more than just first class skiing and a summer filled with festivals. It is a community built around history. A visit to the local museum gives visitors a peek into Telluride's rough and rowdy past filled with mining, bank robberies, and ladies of the night. Fortunately, Telluride has retained its appearance, character and appeal that calls to visitors and keeps them coming back.
As one might imagine, real estate in this majestic community does not come at a small price. While many returning visitors have chosen rental for their accommodation needs, others have sought a more permanent arrangement. As the premier fractional, private residence club in the Town of Telluride, second home owners have found a reprieve from the high costs and care associated with second homeownership and uncertainty that comes with rentals. River Club owners find joy and relaxation from a property with exceptional service, a caring community, financially strong owners association and complimentary ski and golf privileges while in-residence.
Why a three year buyback? Because some buyers remain cautious to invest in real estate during a recovering economy. A three year buyback provides an exit strategy. Additionally, with the River Club's high ownership satisfaction, Urban River Club, LLC, is confident that new owners will be thrilled with their purchase decision and have no desire to sell back their ownership. "The River Club is such a wonderful, relaxing environment for us…. Every consideration and kindness seems to come easily to all who host us. I know that this takes considerable planning and effort. Thank you so much for having good people who really do shine at what they do!" Chuck Chambers, Owner since 2009
Purchase prices range from $51,250 to $341,500, and provide the perfect option for anyone considering second home ownership in Telluride. For additional information, please visit the River Club website. If you'd like an opportunity to stay at the River Club this summer and experience firsthand why owners are so excited about their purchase decision, please call 970-369-5200.
The River Club is a private residence club offering deeded fractional interests in the club to its owners and is classified as a "timeshare plan" under Arizona law. This is not intended to be an offer to sell, or a solicitation of offers to acquire, a unit in the River Club Condominiums development, with respect to residents of Alaska, California, Connecticut, Hawaii, Idaho, Illinois, Indiana, Kansas, Kentucky, Massachusetts, Michigan, Minnesota, New Hampshire, New York, New Jersey, or of any other jurisdiction where prohibited by law. Warning: The California department of real estate has not inspected, examined, or qualified this offering.