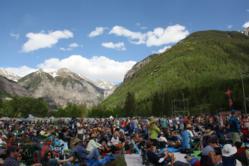 "The granddaddy of the modern festival circuit." - Relix Magazine
Telluride, Colorado (PRWEB) April 26, 2012
For the past 38 years, the summer solstice has played the role of a significant ceremony in Southwest Colorado. Wide-ranging interpretations of the solstice have varied among cultures for centuries. From celebrations of harvest to spiritual observances, from festivals to feasts, it's the longest day of the year in the Northern Hemisphere and marks the beginning of summer. For the small mountain town of Telluride, Colorado, the solstice symbolizes one thing: Bluegrass.
Each year, the Telluride Bluegrass Festival coincides with the summer solstice; quadrupling its normal population with happy "festivarians", professional string pickers, friendly strangers and die-hard music lovers. Listed on Outside Magazine's 2012 Adventure Bucket List - "Attend Telluride Bluegrass" - this annual summer festival is an absolute must-do.
This year's 39th Annual festival sold-out in record time with the help of a stacked list of veteran musicians and Grammy Award-winning artists: Alison Krauss and Union Station, John Prine, John Fogerty, Sam Bush, Jerry Douglas, Béla Fleck and Bruce Hornsby. Also, gracing Town Park Stage's presence are the powerful, inspiring sounds of Yonder Mountain String Band, Greensky Bluegrass, Leftover Salmon, Punch Brothers and many, many more. For the complete 2012 lineup, click here.
Telluride.com is giving away two, 4-day passes and 4 nights lodging at the Aspen Street Inn to this year's sold-out 39th annual Telluride Bluegrass Festival! To enter this once in a lifetime opportunity, click here.
About Telluride, Colorado:
Founded in 1858, the town of Telluride is protected as a National Historic Landmark District. The famed 'Festival Capital of Colorado' is nestled in the towering San Juan Mountains - the highest concentration of 14,000-foot mountains in the United States.
Telluride.com is owned and operated by Telluride Alpine Lodging - the longest-standing, locally-owned and operated lodging company in the Telluride region. Offering a wide selection of hotel rooms, vacation homes and condominium rentals in both Telluride & Mountain Village. Telluride.com is the only place to look to find the perfect Telluride vacation rental.
Contact:
Hart Roberts
(970) 728-3388, ext. 155
Hart(at)Telluride(dot)com
@hartwellskis
###