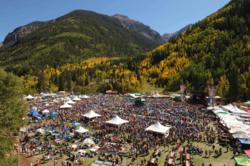 Life's too short to miss out on this much fun.
Telluride, Colorado (PRWEB) April 24, 2012
Each Summer, thousands of people flock to the jagged San Juan Mountains of Southwest Colorado in search of their own unique celebration. Bluegrass, Wine, Yoga, Jazz, Mushrooms, Film, Arts and Blues… just to name a few. And on the one weekend when there's absolutely nothing going on in town, there's even the infamous "Nothing Festival" to keep you busy.
Welcome to Festival Capital, USA. Welcome to Telluride, Colorado.
Haven't been to Telluride? The town was founded in 1858 after gold and silver were discovered, Butch Cassidy robbed his first bank here, Nikola Tesla selected the site to build the world's first power plant, hippies re-settled these lands in the 60's, skiing arrived in the 70's, real estate agents invaded in the 80's, Tom Cruise, Oprah and Oliver Stone call it vacation, Tim McGraw wrote a song about it and on Memorial Day Weekend, this small mountain town kicks off one of the most anticipated festival lineups in the nation.
2012 Telluride Festival Season:
Mountainfilm in Telluride (May 25-28)
Telluride Balloon Festival (June 1-3)
Wild West Fest (June 4-9)
Telluride Heritage Fest (June 8-10)
Telluride Bluegrass Festival (June 21-24)
Telluride Wine Festival (June 27-July 1)
Telluride Musicfest (June 27-July 8)
Telluride Plein Air (June 29-July 5)
Fireman's 4th of July Celebration (July 4)
Telluride Playwright's Festival (July 5-13)
KOTO Doo-Dah Concert (July 8)
Telluride Yoga Festival (July 12-15)
Telluride Americana Music Fest (July 18-21)
Telluride Compassion Fest (July 18-22)
Telluride Cajun Festival (July 27-28)
Telluride Jazz Celebration (August 3-5)
Chamber Music Festival (August 8-19)
Telluride Mushroom Festival (August 16-19)
Telluride Festival of the Arts (August 17-19)
USA Pro Cycling Challenge Stage 1 Finish (August 20)
New Festival *TBA* (August 25-26)
Telluride Film Festival (August 31-September 3)
Telluride Blues & Brews Festival (September 14-16)
Telluride Horror Show (October 12-14)
Start planning your trip to paradise today… life's too short to miss out on this much fun! Call us today at (877) 507-9695, or visit us online at Telluride.com. Like us on Facebook and follow us on Twitter for up-to-date events, photos, videos, contests, specials and more.
About Telluride.com
Telluride.com is owned and operated by Telluride Alpine Lodging - the longest-standing, locally-owned and operated lodging company in the Telluride region. Offering a wide selection of hotel rooms, vacation homes and condominium rentals in both Telluride & Mountain Village, Telluride.com is the only place to look to find the perfect Telluride vacation rental.
Contact:
Hart Roberts
(970) 728-3388, ext. 155
Hart(at)Telluride(dot)com
@hartwellskis
###