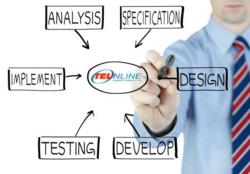 TelOnline is backed up by a team with business experience, and technical support.
Bogota, Colombia (PRWEB) September 02, 2011
Axesat, S.A. has awarded TelOnline SAS., a contract to enhance their internal and external telephony communications system. The main objective of this project was to obtain an IP telephony solution to provide different services aimed at increasing productivity and control of the company. The solutions implemented by TelOnline include a Switchvox platform with 150 extension, 3 primary and contingency on servers, telephony access to the administrative area, call center and remote offices and an interactive voice response system. Switchvox is a platform that offers a friendly interface for both the end user and the administrator. The solution for Axesat includes a unified messaging system that allows mobility through smart phones like Blackberry, iPhone & Android; the pattern of high availability and support for SIP devices, softphones and IP phones, make it a great cost/benefit relation.
Axesat's IT manager Rafael Molano said they choose TelOnline, because "TelOnline is an authorized Digium partner in Colombia and they also have strategic alliances with various telecommunications sector allowing them to offer integrated solutions. TelOnline is backed up by a team with business experience, and technical support."
"Among the most important benefits, after implementing Switchvox, was the constant communication with the integration of the telephone system and the email system and it is even more significant when we consider that we can have our extensions work with our PCs, laptops and smartphones, in short, we are connected all the time", said IT manager Rafael Molano from Axesat.
"Our goal is to provide Colombia and Latin America countries the opportunity to select the right products and solutions for their company, allowing them to choose their VoIP technology and apply it to help grow their business and get the highest return on investment. Axesat awarding this contract to TelOnline is well on its way to achieving that goal", said President Juan Carlos Castañeda.
"This is a great example of how TelOnline integrates multiple products and services to provide the best solutions for our customers," said President Juan Carlos Castañeda.
About Axesat
Axesat is a Colombian company dedicated to the commercialization of Internet access services and satellite broadband data transmission. Currently Axesat is VSAT satellite's largest operator in Colombia's and it's the region. It has more than 4,000 satellite links installed in Colombia, Venezuela, Ecuador, Costa Rica, Salvador, Honduras and Guatemala. Because of this, Axesat has a presence in Venzuela, Ecuador, Panama, Guatemala, El Salvador, Honuras and Nicargua. For more information about Axesat visit http://www.axesat.com or call +57(1)291-6464.
About TelOnline
TelOnline is a company that consults and offers solutions in telephony. The tailored solutions include VoIP telephony, iPBX, call centers, automatic dialers, recording systems, embedded software development for telephony, integration and assembly of CRMs. TelOnline is a selected partner of Digium, Asterisk makers, as well as numerous strategic business partner alliances within the industry. TelOnline is committed to providing the best-of-breed products and services to markets in Latin America and the United States. Our team is highly experienced in commercial, development and support engineers, management and much more. If you would like more information about TelOnline, please visit http://www.Telonline.com or call Colombia +57(1)325-9832 or USA (954)894-6181.
Let us help you find the right solution for you.
###