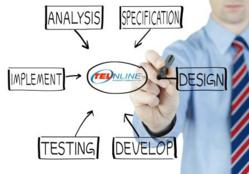 We are pleased to provide Boom Net with a valuable, tailor-made hosted IP-PBX, firewall, SIP Trunking, Dialer and SMS telecommunications solution. This solution will help them grow and expand their operations in new regions around the world.
Miramar, Florida (PRWEB) September 29, 2012
TelOnline and BellVoz, a leading telecommunications solutions company, celebrate two years in providing Boom Net with a customized complete IP-PBX, SIP Trunking Service, Dialer application and SMS telecommunications solution.
Boom Net is enjoying the IP-PBX solution (Switchvox) provided by TelOnline. TelOnline originally support Boom Net with a colocation service in his modern data center. The colocation provides a secure, controlled space, with redundant power and lighting fast fiber connections, as well as 24x7x365 support for their IP-PBX system. IP-PBX allows small and medium size business to have a cutting-edge, reliable and scalable telephone system that's connected to the internet backbone.
It offers countless features:

Geographical Flexibility – Employees can work across different regions and countries with a virtual office phone system.
Credibility – Present customers with a professional sounding high definition voice telephone system.
Countless Features – Call queuing, caller id, voicemail to email, simultaneous ring, automated greeting, calling logs and much more.
Quick Setup – Easy to deploy compared to a traditional telephone system.
Reliable and scale - As business grows.
Boom Net Save money on local and long distance charge – Free site to site calling across their networked locations,
This telecommunication mix also included a firewall from EdgeMarc. This firewall solution is an ideal solution to protect the whole network from viruses, spam, spyware and security breaches. It ensures a secure, reliable real time traffic IP communication between the networks, guaranteeing high quality voice communication.
TelOnline also provided the Dialer and SMS server, which is a web based application, in which Boom Net configures messages from the dialer (voice mail) and SMS (text messages) to be sent to their contact list. It allows them to see in real-time how each campaign is performing.
BellVoz offered SIP Trunking to Boom Net, which offers countless advantages of digital telephone service- at no additional cost - to help keep business running smoothly as their organization continues to grow. It offers free on network call charges, the ability to have different national and international area code numbers, and much more.
"We are pleased to provide Boom Net with a valuable, tailor-made telecommunications solution," stated TelOnline's President Juan Carlos Castañeda. "This solution has help them grow and will expand their operations in new regions."
About Boom Net
Boom Net is an internet service provider, whose vision, mission, and philosophy are focused on achieving continues and perpetual success. We use wireless network to bring point to multipoint service. Customer can enjoy this service in any room of their home. This service can also be purchased for commercial business, cameras and gamers, maintaining the same quality and optimum service. Boom Net's customers can count on a highly trained and educated team on what is wireless internet service. Our service is reinforced with high-tech equipment, quality and performance that provide our customers with a continuous and uninterrupted signal. For more information please visit: http://boomdish.com/
About TelOnline
TelOnline is a company that offers and consults specialized solutions in telephony. The tailored solutions include VoIP telephony, iPBX, call centers, automatic dialers, recording systems, embedded software development for telephony, integration and assembly of CRMs, video conference and more. TelOnline is a selected partner of Digium, Asterisk makers, as well as numerous strategic business partner alliances within the industry. TelOnline is committed to providing the best products and services to markets in Latin America and the United States. Our team is highly experienced in commercial, development and support engineers. If you would like more information about TelOnline, please visit http://www.Telonline.com or call USA +1(954)894-6181 or call Colombia +57(1)325-9832.
About BellVoz
BellVoz LLC., is a leading provider of telecommunications services connecting residents and corporate clients around the world. BellVoz was founded in 2008 and is headquartered in Miramar, Florida. It aims to offer the highest quality of service, maximum convenience and some of the lowest rates on the market. BellVoz aims to offer its tailor-made services and solutions to the end-user. For more information about BellVoz, visit http://www.BellVoz.com or call +1(877)464-1130.