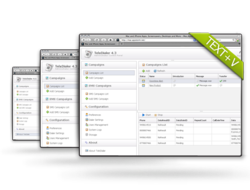 Now you can easily send bulk Texts to your entire contact lists from the convenience of a web-based portal.
Irvine, CA (PRWEB) July 17, 2012
TelxDialer is a Phone messaging solution, an auto-dialer to be used with your ShoreTel Phone System which can now be seen at http://www.telxdialer.com. TelxDialer users are able to reach thousands with personalized messages and customizable caller response options. By using this ideal communication tool, users will be able to announce product promotions, product updates, & much more to potential clients and existing customers. TelxDialer includes flexible integration with existing software packages and is incredibly easy-to-use.
TelxDialer allows its users to monitor multiple campaigns through a secure web-based management portal while providing the ability to simultaneously utilize the cloud-based SMS features. With a Windows-based Dialer engine backed by SQL Database, TelxDialer's Auto Retry feature makes it easy to handle busy or no answer calls.
TelxDialer-Fully Featured
Without requiring a dedicated phone line, TelxDialer uses any open phone line in the office for only a brief time period. All user activity is logged and available to access through the web-based management portal.
TelxDialer-Customer Satisfaction
With an auto-dialer that has the ability to launch mass messaging campaigns, TelxDialer has everything that users need in order to keep their existing & potential customers up to date with company announcements and product information.
Tele Express is able to develop new features to meet customer requirements for specific use or integration with existing applications.
For more information, please contact Tele Express at sales(at)telpxress(dot)com or visit http://www.telxdialer.com