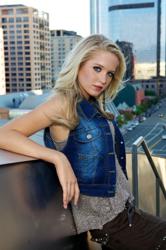 Come join Macy Kate LIVE at Temecula's Masia De Yabar Winery - Saturday October 20th at 2:00 PM
(PRWEB) October 19, 2012
With the voice of a well-seasoned and developed artist, you would never image that that this small town girl hasn't even reached her 15th birthday yet. With previous performances that included Bush Gardens, Kansas Sprint Arena, the Famous Eddie's Attic in Georgia, and Florida's Olympic Stadium, this 14 year old has already added more to her resume than most aspiring musicians do in their lifetime.
The beautiful and intimate Masia De Yabar winery in Temecula California, will host Macy Kate's mid-day acoustic showcase on Saturday October 20th , at 2:00 pm. This show will kick off the Artist's Southern California fall/ winter concert series, and provide Temecula Valley residents a chance to see this rising star live before she hits the main stage for her upcoming holiday shows.
Macy Kate's 25 song acoustic set, displays a variety of covers and originals, which give a little something for all audiences to relate to. Her lineup includes tributes to John Lennon, One Republic, Rihanna, Journey, and Corrine Bailey Rae. The show will begin with an opening set by Orange County's talented original singer/songwriter Dakota Thompson, and closing the afternoon out will be the famous "Fashion Rock Show's" Executive Producer/musician Dean Ryan.
Macy Kate is gaining public exposure nationwide for her soulful voice and audience engaging performances. She is already being compared to some of the biggest names in music by radio personalities, bloggers, and record producers. Macy Kate's voice has the range of Christina Aguilera, the soul of Alicia Keys, and the fearless attitude of Beyonce. She has a unique and identifiable sound which makes it almost impossible to recreate her vocal delivery.
Macy Kate's Atlanta production team including Jay Reid, Amir Cuyler, and Roark Bailey, have helped her put together an incredible 5 song demo which has recently captured the attention of award winning music producer Andrew Lanester. Lanester has received producer/songwriter credits on platinum selling records including the Hannah Montana Soundtrack, High School Musical, Disney Mania 4, and has worked with artists such as The Backstreet Boys, B5, Irene Cara, Keith Sweat, and Alosu. Lanester's newest artist project is focused on Macy Kate who Lanester sees a very bright future for.
For more information on this Temecula showcase, or to schedule an interview with Macy Kate, please contact Dani Thompson at danithompson@dntagency.com , by website submission at http://www.dntagency.com, or by phone at 714-496-5152. For the venues address and directions please visit http://www.masiadeyabar.com. For a sample of Macy Kate's music, visit http://www.macykatemusic.com or http://www.macymarshburn.com . This is a show you can't miss! We hope to see you all there.
Marketing and distribution by Fouts Ventures, http://www.foutsventures.com 1-800-277-5221