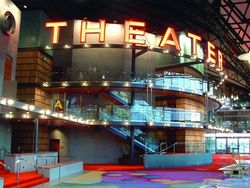 Tempe, AZ (PRWEB) August 30, 2007
Two of Tempe, Arizona's (http://www.tempecvb.com) most anticipated grand openings are happening in September 2007: Tempe Center for the Arts and Tempe Marketplace.
The new multi-million dollar Tempe Center for the Arts (http://www.tempe.gov/tca) (TCA) is scheduled to open to the public on Sunday, September 9, 2007 from noon to 5 p.m. during the Grand Opening Family Day Presented by The Tempe Republic/The Arizona Republic. The visually striking TCA features a state-of-the-art 600-seat proscenium theater, a 200-seat studio theater and a 3,500 square-foot gallery. It is located in Tempe Beach Park, on the shore of Tempe Town Lake.
Highlighting the Grand Opening Family Day of Tempe entertainment will be performances from many of the resident companies such as Childsplay, Arizona's professional theatre company for young audiences, Tempe Little Theatre and the Tempe Symphony Orchestra. Complimentary food and beverages, family activities and facility tours will also be offered. The gallery will feature two exhibitions. "But It's a Dry Heat" is a humorous commentary on Arizona summers. "Childsplay's 30th Anniversary Exhibition" traces this innovative group from its humble roots to its current status as a nationally and internationally respected professional theatre company. Both will be on display until January 11, 2008.
This September, Tempe will also welcome Tempe Marketplace (http://www.tempemarketplace.com). The $270 million retail project is designed as an open-air shopping gathering place with outdoor fireplaces, raised dining patios, laser light shows nightly, a party plaza and live performances. With 1.3 million square feet of Tempe entertainment, shopping and dining, Tempe Marketplace is the largest outdoor retail project in Arizona. The spectacular development features more than 120 of the finest restaurants, retail stores, lifestyle shops and attractions including Arizona's first Dave & Buster's. Harkins Cine Capri at Tempe Marketplace and many of the stores and restaurants are now open, with the official grand opening of the center on Friday, September 28 from 7 to 11 p.m.
About Tempe Convention and Visitors Bureau:
The Tempe Convention and Visitors Bureau is a non-profit organization devoted to marketing Tempe, Arizona as a desirable visitor and group destination site. The Tempe Convention and Visitors Bureau's mission is to also provide visitors, media professionals and meeting planners with information on Tempe hotels, Tempe restaurants, Tempe entertainment and local points of interest. To learn more about Tempe, Arizona please call 480-894-8158 or 800-283-6734 or visit us at http://www.tempecvb.com.
###