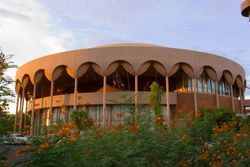 Tempe, AZ (PRWEB) August 15, 2007
For visitors looking to catch some of Broadway's hottest shows, look no further than Tempe, Arizona. Tempe's ASU Gammage, located on the campus of Arizona State University (ASU), serves as the venue for the largest theatrical subscription series in the state of Arizona and one of the most successful Broadway series in the country -- the M&I Bank Broadway Across America - Arizona series.
ASU Gammage is a striking venue designed by internationally renowned architect Frank Lloyd Wright. ASU Gammage is located within walking distance of many Tempe events and the Mill Avenue District, which is the perfect spot for a scrumptious dinner before the show or satisfying night cap or dessert afterwards. There are more than 100 shops, restaurants, cafes and night spots along Mill Avenue in Tempe, Arizona.
Upcoming Broadway shows include:
Mamma Mia ● August 21 - August 26, 2007
Jersey Boys ● September 27 - October 14, 2007
Annie ● December 26 - December 30, 2007
Camelot ● January 15- 20, 2008
Twelve Angry Men starring Richard Thomas ● February 19 - 24, 2008
The Color Purple ● March 11 - 23, 2008
Sweeny Todd ● April 15- 20, 2008
The Wedding Singer ● May 20 - 25, 2008
My Fair Lady ● June 17 - 22, 2008
Tickets for the season range in price from approximately $20.00 to $80.00 at ASU Gammage and Ticketmaster. For tickets call 480-784-4444 or visit asugammage.com. For a description of each show, please visit the Tempe Convention and Visitors Bureau.
ASU Gammage is located on the main campus of Arizona State University in Tempe at Mill Avenue and Apache Boulevard. For more information about ASU Gammage or other Tempe Events, visit Tempe CVB online.
About Tempe Convention and Visitors Bureau
The Tempe Convention and Visitors Bureau is a non-profit organization devoted to marketing Tempe, Arizona as a desirable visitor and group destination site. The Tempe Convention and Visitors Bureau's mission is to also provide visitors, media professionals and meeting planners with information on Tempe hotels, Tempe restaurants, Tempe events, and local points of interest. To learn more about Tempe, Arizona please call 480-894-8158 or 800-283-6734 or visit us at http://www.tempecvb.com.
###