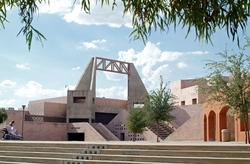 Sex, Lies and Podcasts with a George Michael soundtrack?
Tempe, Arizona (Vocus) October 6, 2009
Tempe, Arizona is bursting with an abundance of theater, music and visual arts offerings this fall. From Broadway blockbusters to contemporary art to jazz performances to author book signings, all of Tempe's arts and cultural events can be found in one location - TempeScene.com.
If theatre is your passion, then Tempe, Arizona is the place for you. ASU Gammage, designed by the renowned architect Frank Lloyd Wright, plays host to LITTLE HOUSE ON THE PRAIRIE from December 8-13, 2009 and THE PHANTOM OF THE OPERA from October 28 – November 22, 2009. Additionally, fans can enjoy ANNIE from December 29 – January 3, 2010 and AUGUST: OSAGE COUNTY from January 5 -10, 2010. ASU Gammage also hosts the Beyond Series featuring productions both provocative and thought-provoking. On January 30, 2010 see the Beyond show, Kristina Wong: Wong Flew Over the Cuckoo's Nest.
Stray Cat Theatre does not disappoint with this season's lineup of edgy, alternative theatre. Speech & Debate by Stephen Karam runs from December 4-19, 2009. How can you go wrong with a show about "Sex, Lies and Podcasts with a George Michael soundtrack?" Located at the Tempe Performing Arts Center, Stray Cat Theatre is nestled in the heart of the Mill Avenue District.
Families and children are also accommodated in Tempe's theater scene. Childsplay, Tempe's award-winning professional theatre company for young audiences, is the primary resident company at the Tempe Center for the Arts. Childsplay offers a series of productions annually – perfect for parents who want to be entertained while introducing their children to theatre. All performances in the 2009/2010 season are held on Saturday and Sunday afternoons. Upcoming shows include ANDROCLES AND THE LION from October 31 - November 14, 2009 and JUNIE B. IN JINGLE BELLS, BATMAN SMELLS from November 21 - December 26, 2009.
Tempe Little Theatre, an important part of Tempe's theater scene, also performs at the Tempe Center for the Arts. This season promises energetic family-friendly productions ranging from drama and intrigue to comedy and musicals. This fall, see Sylvia, a story about a cute, affectionate, irresistible, life-changing dog. Performances for Sylvia are November 21 - December 6, 2009.
Engage your love of the written word at Changing Hands Bookstore. Arizona's award-winning independent bookseller has a full calendar of author appearances, workshops and community events. See Madeleine Albright on October 12, 2009 to hear about her new book Read My Pins: Stories from a Diplomat's Jewel Box. Additionally, the legendary Barbara Kingsolver is scheduled for November 12, 2009 with her novel, The Lacuna.
Art lovers will feel right at home at the ASU Art Museum and Ceramic Research Center. One of more than 20 free museums and galleries at ASU, the ASU Art Museum houses rotating exhibits of contemporary art and also boasts an impressive permanent collection of 19th and 20th century American art. Located next door is the Ceramic Research Center, displaying three to five exhibitions annually and housing a remarkable collection of 3,500 pieces of contemporary ceramic art.
The Desert Botanical Garden, in scenic Papago Park, will host an exhibition by renowned Native American sculptor Allan Houser this November 21, 2009 to May 30, 2010. Allan Houser is one of the best known and most celebrated American Indian artists of the 20th century. This exhibit will feature 18 bronze sculptures that reflect Houser's modernist influences. Additionally at the Desert Botanical Garden, experience Music in the Garden this fall, featuring a variety of genres from the blues to rock to jazz music.
The jazz scene is taking hold in Tempe. MAD Jazz Nite is a new weekly live jazz series at MADCAP Theaters, featuring some of the finest jazz musicians in the area. From 7-10 p.m. every Thursday, enjoy established players from the jazz community and 'up and coming' talent and jazz musicians from the ASU School of Music. The Tempe Center for the Art showcases the Lakeside Jazz series held monthly through December. Artists include Nicholas Payton, Rosana Eckert and Dennis Rowland.
For more information about all of Tempe's arts and cultural events, visit TempeScene.com.
About Tempe Convention and Visitors Bureau
The Tempe Convention and Visitors Bureau is a non-profit organization devoted to marketing Tempe, Arizona as a desirable visitor and group destination site. The Tempe Convention and Visitors Bureau's mission is to provide visitors, media professionals and meeting planners with information on Tempe hotels, Tempe restaurants, Tempe entertainment and local points of interest. To learn more about Tempe, Arizona please call 480-894-8158 or 800-283-6734 or visit our website.
###