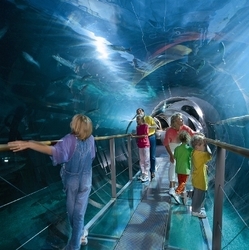 Tempe, AZ (Vocus) May 6, 2010
Families can explore three new Tempe attractions this spring and summer. Boogie board in the third largest wave pool in the West, revel at more than 5,000 unique sea creatures or take a walk through Arizona's rich history. Big Surf, SEA LIFE Arizona and the newly renovated Tempe History Museum are eager to welcome families to experience their attractions.
Big Surf, Arizona's first water park, will reopen this summer with its biggest splash yet. Recently taking over the park, Inland Oceans, LLC is excited to reopen Big Surf on May 28 with a fresh new look. Big Surf has been known as a staple for family fun in the sun for the past 40 years, and Inland Oceans, LLC is looking to bring the water park back to its original 1969 glory. The renowned Waikiki Wave Pool has been freshly sanded and repainted and will now be setting time aside daily when visitors can try out their boogie boarding skills. New events will also be added to the parks' itinerary later this summer such as Family Fun Sunday and weekend concerts. Tickets are just $26 for an all day adult pass and children less than four feet tall are just $19.50. For children three an under, tickets are $3.00. Starting in June, Big Surf will also be bringing back their 4/$40 coupon. Visit http://www.BigSurfFun.com for ticket specials and information about season passes.
See a sneak peek video of Big Surf before the official grand opening on May 28 and hear from insider Tom Medeiros about what's new at Big Surf.
Opening on May 14, SEA LIFE Arizona is Tempe's newest attraction. Located within the Arizona Mills mall, SEA LIFE Arizona is a unique excursion for the whole family. Primarily focused towards children, SEA LIFE creates an environment where little ones can have face-to-face encounters with seahorses, rays, sharks, tropical fish and more. The aquarium will host will more than 30 display tanks in 12 different habitat zones, making homes for more than 5,000 sea creatures. Visitors to the aquarium will take a voyage to the depths of the oceans, travel through Arizona lakes and explore the shoreline of Cabo San Lucas. A coral shoaling ring, ray exhibit, sea horse display and ocean tunnel will both fascinate and engage children and adults alike. The unique ocean tunnel will provide a 360 degree viewing experience to visitors. General admission is $18.50 for adults and just $10.50 for children 3-12 years old.
After extensive renovations, the Tempe History Museum reopened this spring with a brand new exhibit and gallery design. Geared towards younger kids, this museum features several new exhibits that promote interactive experiences. A kid-sized arena creates a playground for youngsters to reenact their favorite football plays. In the "Kid's Place" area of the museum, kids can learn to farm and plant "crops." Visitors to the museum can now be more than just spectators – they have the ability to immerse themselves in Tempe's history. As always, the Tempe History Museum has free admission every day. This museum is not only a great way to spend the day with the family, but it's easy on the wallet too.
For more information about Tempe attractions and hotel specials, visit the Tempe Convention and Visitors Bureau Web site, http://www.ExploreTempe.com, or call 800-283-6734.
About Tempe Convention and Visitors Bureau
The Tempe Convention and Visitors Bureau is a non-profit organization devoted to marketing Tempe, Arizona as a desirable visitor and group destination site. The Tempe Convention and Visitors Bureau's mission is to also provide visitors, media professionals and meeting planners with information on Tempe hotels, Tempe restaurants, Tempe entertainment and local points of interest. To learn more about Tempe, Arizona please call 480-894-8158 or 800-283-6734 or visit us at http://www.tempecvb.com.
###