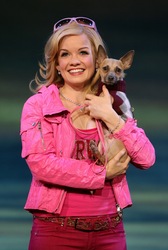 Tempe, Arizona (Vocus) September 11, 2009
Tempe, Arizona is a great place for theater lovers to see first-rate Broadway shows in a historic Frank Lloyd Wright-designed auditorium.
Legally Blonde: The Musical kicks off the stellar 2009/2010 Broadway season at Tempe's ASU Gammage, September 22-27, 2009. Starting with light-hearted fun, the Broadway Across America – Arizona season and special engagements also include thought-provoking and toe tapping favorites. Listen to a podcast interview featuring D.B. Bonds who plays the character Emmett in Legally Blonde: The Musical.
Designed by the renowned architect Frank Lloyd Wright, ASU Gammage is among the largest university-based presenters of the performing arts in the world. ASU Gammage in Tempe hosts a collection of awe-inspiring performances that are perfectly complemented by the theater's architectural beauty. Home to Broadway Across America – Arizona, the 2009/¬2010 season includes seven of today's biggest hits straight from Broadway along with several blockbusters that will make their Tempe return:
Legally Blonde: The Musical - September 22 - 27, 2009
Little House on the Prairie - December 8-13, 2009
August: Osage County - January 5 -10, 2010
Mary Poppins - February 11-28, 2010
Avenue Q - March 9-14, 2010
Alfred Hitchcock's The 39 Steps - April 20-25, 2010
In The Heights - June 15 – 20, 2010
But, the fun doesn't have to stop there. ASU Gammage also stages a series of special engagements during the 2009/2010 season that include:
Phantom of the Opera - October 28 – November 22, 2009
Annie - December 29-January 3, 2010
Jesus Christ Superstar - April 6-11, 2010
For ticket and show information, visit ASU Gammage or call (480) 965-3434.
And, with all of the great dining options in Tempe, it's a perfect way to make an exciting evening outing. The Mill Avenue District, with over 100 restaurants, shops and taverns is a quick walk from ASU Gammage and an ideal spot to begin or end your night on the town. Many Mill Avenue restaurants have discounts and special offers for ASU Gammage patrons, including 4 hours of free parking. See millavenue.com for details about "Dinner & A Show."
Subscriptions for the entire Broadway season begin at $112. Or, there is also a mini-subscription package that includes your choice of four shows, beginning at $61.40. Individual show tickets start at under $25.00 and are available for purchase online, via telephone or at the box office. For information on Tempe dining options and other ideas for fun in Tempe, visit tempecvb.com.
About Tempe Convention and Visitors Bureau
The Tempe Convention & Visitors Bureau is a non-profit organization devoted to marketing Tempe, Arizona as a desirable visitor and group destination site. The Tempe Convention and Visitors Bureau's mission is to provide visitors, media professionals and meeting planners with information on Tempe hotels, Tempe restaurants, Tempe entertainment and local points of interest. To learn more about Tempe, Arizona please call 480-894-8158 or 800-283-6734 or visit our website.
###