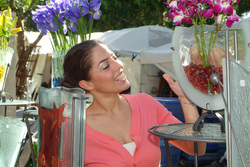 one of the funniest shows you're ever likely to see
Tempe, AZ (Vocus) February 18, 2010
Arizona is always a favorite warm spring destination for those escaping the cold winter chill. Tempe, Arizona, located in the heart of the Phoenix Metropolitan area, is a perfect spot for vacationers who are looking to experience the arts, sports and just plain fun through a variety of special events. The Tempe Convention and Visitors Bureau is a resource for all that there is to see and do in Tempe, including a complete calendar of events, hotel options and details about dining, shopping and attractions.
From March 3-April 3, there will be more than 200 games played by 15 teams in 30 days during Cactus League Spring Training. The Los Angeles Angels of Anaheim call Tempe home as they play teams such as the Cubs, the Brewers and the Giants. With several games a day, it's easy to catch your favorite team. And, tickets at the Angels home field, Tempe Diablo Stadium, start at just $6.
Thousands of beer lovers from throughout the region are expected to flock to Tempe Beach Park the weekend of March 6-7, 2010 for the 22nd Annual Great Arizona Beer Festival. The event will feature more than 200 specialty and micro-brewed beers, in addition to live local music, games and great food. Tickets are $40 in advance and $50 at the gate for general admission, including up to 24 different beer samples, or $80 in advance/$90 at the gate for VIP admission. The festival runs from 2-6 p.m. each day.
The Frank Lloyd Wright-designed ASU Gammage plays host to AVENUE Q, March 9-14, 2010. AVENUE Q is Broadway's smash-hit Tony® Award winner for Best Musical, Best Score and Best Book. A hilarious show full of heart and hummable tunes, AVENUE Q is about trying to make it in NYC with big dreams and a tiny bank account. Called "one of the funniest shows you're ever likely to see" by Entertainment Weekly, AVENUE Q features a cast of people and puppets who tell the story in a smart, risque and downright entertaining way.
More than 250,000 art aficionados are expected at the Tempe Festival of the Arts, March 26-28, 2010, in the Mill Avenue District. Admission is free. This Tempe street fair features more than 400 artists and craft persons displaying art ranging from jewelry to sculpture to photography to woodworking. There are collection-worthy masterpieces as well as arts and crafts for art lovers with a limited budget. All artists are on site to provide more insight into their work.
In addition to art, visitors can also enjoy entertainment such as street performers, live music and hands-on activities for children. This is also the perfect time to discover the art of wine, Arizona-style. The Arizona Wine Growers Association will showcase 12 Arizona wineries that will offer up to six tastings with the price of admission to the Arizona Wine Festival. Admission to the wine festival is $10 and includes a commemorative wine glass.
From March 27-28, the 7th Annual Arizona Dragon Boat Festival will make a splash at Tempe Town Lake. Visitors can celebrate Asian culture in the Wild West with two days of dragon boat races, activities for kids, food booths and performances by martial artists, musicians and dancers. The beautifully decorated dragon boats are manned by teams of up to 20 paddlers. One team member pounds a drum to keep the paddlers' oars in sync; the drum represents the heart of the dragon.
To learn more about upcoming events and Tempe, please visit http://www.ExploreTempe.com or call the Tempe Convention and Visitors Bureau at 800-283-6734.
About Tempe Convention and Visitors Bureau
The [Tempe Convention and Visitors Bureau] is a non-profit organization devoted to marketing Tempe, Arizona as a desirable visitor and group destination site. The Tempe Convention and Visitors Bureau's mission is to also provide visitors, media professionals and meeting planners with information on Tempe hotels, Tempe restaurants, Tempe entertainment and local points of interest. To learn more about Tempe, Arizona please call 480-894-8158 or 800-283-6734 or visit us at http://www.tempecvb.com.
# # #