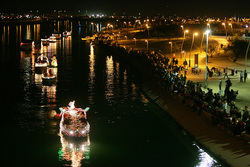 Tempe, AZ (Vocus) November 17, 2010
In Tempe, Arizona, there's no need for freezing temperatures to put you in the holiday mood. There are several distinctive regional celebrations in Tempe that will have you aglow with holiday spirit, Southwestern style.
Holiday events in Tempe include the Tempe Fantasy of Lights Opening Night Parade and Boat Parade, "Snow What Fun" at Tempe Marketplace, ZooLights at The Phoenix Zoo and Las Noches de las Luminarias at Desert Botanical Garden. The Insight Bowl, Fiesta Bowl Block Party on New Year's Eve and the Fiesta Bowl round out the New Year.
Tempe's downtown, the Mill Avenue District, will be bursting with shimmering lights throughout the season. The Tempe Fantasy of Lights Opening Night Parade will take place on Saturday, November 27 at 6 p.m. Floats, bands and marching units will lead the way for Santa, who will end the evening at MADCAP Theaters, taking special gift requests from children. The Mill Avenue District provides a great opportunity to stroll the historic, brick lined sidewalks to get a closer look at the light displays, which will remain through the New Year. There are more than 70 restaurants, taverns and retailers along Mill Avenue. Holiday shopping options along Mill Avenue include American Apparel, Urban Outfitters, Cactus Sports and Pitaya. In addition, Mill Avenue will be home to more than 400 artists selling their handcrafted work during the Tempe Festival of the Arts, December 3-5 from 10 a.m. to dusk daily.
The Tempe Fantasy of Lights Boat Parade, Saturday, December 11, will feature as many as 50 illuminated watercraft on Tempe Town Lake. Santa will arrive in Tempe Beach Park at 6 p.m. and the parade will begin at 7 p.m. Attendees usually choose to gather in the adjacent Mill Avenue District for dinner before or dessert after this fun family friendly event.
Tempe Marketplace will kick off the holiday season Wednesday, November 24th at 6:30 p.m. with the lighting of a 60 foot tree and a holiday ice skating performance. Then at 7 and 8 p.m. it will magically snow! If you miss opening night, you can see "Snow What Fun" nightly snowfall from November 26-December 24 at 7 and 8 p.m. by the District stage. The 8 minute snowfall, brought to Tempe Marketplace by MagicSnow, features flakes of snow that children and families will be able to touch and play with. The artificial snow, made up of 90% water is non-toxic, non-staining, eco-friendly, non-allergenic and dissolves upon contact.
After reveling in the blizzard of fluffy snowflakes, shoppers can also enjoy all the great entertainment, dining and shopping options found at Tempe Marketplace such as Dave & Busters, King's Fish House, D'Arcy McGee's Irish Pub, Maria Maria, Charlotte Russe, Gap, Victoria's Secret, Tilly's, Skechers, Apricot Lane, Divaz and many more.
ZooLights will be held at The Phoenix Zoo from November 25, 2010 through January 9, 2011 from 6-10 p.m. nightly. The ever popular ZooLights features more than 3.5 million glowing lights and 600 glimmering animal light sculptures. New this year, Polar Slides will give families a chance to sled, even on a warm winter's evening. The 180' long simulated snow tubing experience is open to those 4 and older.
Celebrate the season and the beauty of the Desert Botanical Garden at the 33rd annual Las Noches de las Luminarias, December 2-30, 2010. The Garden will be aglow with more than 8,000 hand lit luminarias. Guests can purchase hot cider, stroll through the Garden and listen to musicians such as Dickens Carolers, handbell ensembles and other entertainers. Las Noches de las Luminarias is a family tradition in the Phoenix metropolitan area and a reminder about the true beauty of the season.
Tempe is also a favorite destination for football fans looking to end 2010 and begin 2011 with a bang. The Insight Bowl, December 28 at Sun Devil Stadium, is a thrilling match up between the third pick from the Big 12 Conference and the third or fourth pick from the Big Ten Conference, after the BCS selections.
The Fiesta Bowl Block Party will help more than 150,000 revelers celebrate the New Year and college football at the same time. On December 31 beginning at 5 p.m., the Mill Avenue District will be filled with live entertainment stages, featuring local bands and national acts, multimedia displays, street performers, beer gardens, a Fiesta Bowl pep rally and much more. The Fiesta Bowl, at University of Phoenix Stadium in Glendale on January 1, will host the Big 12 Conference champion and another top team in college football.
For more information about events in Tempe, Arizona, please visit http://www.TempeTourism.com.
About Tempe Tourism Office
The Tempe Tourism Office is a non-profit organization devoted to marketing Tempe, Arizona as a desirable visitor and group destination site. The Tempe Tourism Office's mission is to provide visitors, media professionals and meeting planners with information on Tempe hotels, Tempe restaurants, Tempe entertainment and local points of interest. To learn more about Tempe, Arizona please call 480-894-8158 or 800-283-6734 or visit our Web site.
###