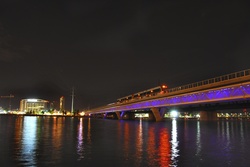 TEMPE, Ariz. (PRWEB) September 3, 2008
Destination Tempe highlights the city's beliefs in innovation, fun and environmental responsibility. Traditionally, weather for the week is a sunny 68 degrees. Events include:
Light Rail Grand Opening Celebration Dec. 27-28Make history – be among first to ride the light rail systemTour the Tempe Transportation CenterSaturday festival features music, fireworks and displays on light rail technology Tempe Rail Rewards Dec. 29-30Explore the Tempe light rail stations and win prizes Insight Bowl Football Game -- Dec. 31Nationally broadcast matchup of college teams from the Big Ten and the Big 12 Insight Fiesta Bowl Block Party -- Dec. 31One of the 10 best New Year's Eve celebrations in the nation, according to USA Today, featuring fireworks, 40 bands and family-friendly festivities. APS Fantasy of Lights – Nov. 24 – Jan 10Walk, shop and dine amidst thousands of holiday lights PF Chang's Rock 'N' Roll Marathon – Jan. 18Join 70 bands, 40 cheer squads and 130,000 exercise enthusiasts for a 13.1-or 26.2-mile run. The cities of Phoenix and Mesa will also have parties along the line, creating a 20-mile celebration.
Tempe is the only Arizona city to have a light rail system that runs from one city border to the other. The $1.4 billion, 20-mile line joins Tempe with Mesa and Phoenix to create an integrated transportation system connecting rail, buses and bicycles. Downtown Tempe is minutes from Sky Harbor International Airport and Tempe is surrounded by freeways, creating a synergy of travel choices.
A bridge across Tempe Town Lake puts on a colorful light show each time a light rail train crosses. A LEED Gold certified maintenance facility and new Transportation Center pending LEED certification provide a seamless transition from rail to bus or bike.
This system provides economic relief and is a sustainable option to traffic and air quality issues. About 26,000 daily passengers are expected the first year, with the system capacity of 50,000 riders in 2020.
The $1.4 billion rail system includes 28 stations, nine parking locations, a maintenance facility and many trains.
About City of Tempe:
Tempe, Arizona is a community of 165,000 residents located in the Greater Phoenix Metropolitan Area. Home to Arizona State University and the state's highest per capita rate of technology companies, Tempe is an innovative, forward thinking community. Tempe employs 175,000 and draws 4 million tourists annually. Approximately $2 billion in new development is under way, much of it along the new light rail line.
Multimedia: Tempe online newsroom
MULTIMEDIA GALLERY http://www.businesswire.com/cgi-bin/mmg.cgi?eid=5768595