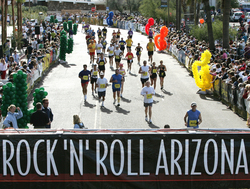 Tempe, Ariz. (Vocus) October 29, 2009
Runners and walkers from all levels and destinations are well into their training, preparing for the annual P.F. Chang's Rock 'n' Roll Arizona Marathon & 1/2 Marathon, January 17, 2010. Recognized as one of the world's most popular running and walking festivals, the P.F. Chang's Rock 'n' Roll Arizona Marathon & 1/2 Marathon begins in downtown Phoenix, races through Scottsdale and finishes in Tempe on the Arizona State University campus.
This musically inspired race is expected to draw more than 30,000 runners, walkers and junior racers from around the world to the finish line in Tempe. Hundreds of spectators join in on the excitement to route on their athlete and enjoy the music throughout the race.
This athletic event also doubles as a musical street party, featuring a variety of music genres from reggae and jazz to country and rock at every mile along both the 26.2 and 13.1-mile courses. Runners, walkers and spectators will keep the energy going as they groove to the beat during the post-race concert in Tempe, featuring a national headliner act.
The Health & Fitness Expo kicks off race week at the Phoenix Convention Center on Friday, January 15 and Saturday, January 16. At the expo, participants can pick up their race numbers and browse over 100 vendors from the running and fitness industry.
Sunny skies and mild temperatures abound in Tempe during the winter season, making it the perfect destination for a marathon. More than half of all race participants come from outside of Arizona in part to enjoy this ideal climate. After the race, many choose to extend their stay over the long weekend and make their trip into a vacation. Some of the most popular Tempe attractions and entertainment include hiking in the Sonoran Desert, seeing a Broadway show at the Frank Lloyd Wright-designed ASU Gammage, dining and nightlife in Tempe's Mill Avenue District and shopping at Tempe Marketplace and Arizona Mills. Participants can also take day trips from Tempe and explore Sedona, the Grand Canyon or Tucson.
For more information about the P.F. Chang's Rock 'n' Roll Arizona Marathon & 1/2 Marathon, visit http://www.RnRaz.com or contact the Competitor Group at 800-311-1255.
For more information about activities in Tempe, visit the Tempe Convention and Visitors Bureau Web site, http://www.RaceToTempe.com, or call 800-283-6734.
About Tempe Convention and Visitors Bureau:
The Tempe Convention and Visitors Bureau is a non-profit organization devoted to marketing Tempe, Arizona as a desirable visitor and group destination site. The Tempe Convention and Visitors Bureau's mission is to also provide visitors, media professionals and meeting planners with information on Tempe hotels, Tempe restaurants, Tempe entertainment and local points of interest. To learn more about Tempe, Arizona please call 480-894-8158 or 800-283-6734 or visit us at http://www.tempecvb.com.
###