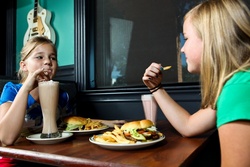 Tempe, AZ (Vocus) April 15, 2010
Tempe, Arizona is a fun-filled college town that majors in great dining options. Each local Tempe restaurant located near the Arizona State University Tempe campus offers a dining experience with a side of something unique – comfort food 24 hours a day at Sucker Punch Sally's Old School Diner, outstanding meals at an affordable price at the historic Monti's La Casa Vieja and award-winning food and microbrews at Four Peaks Brewing Company.
In addition to a great meal, these favorite Tempe restaurants are offering visitors something extra this spring. Sucker Punch Sally's Old School Diner has launched their new Web site, complete with their extensive calendar of live music. Monti's La Casa Vieja may be the oldest continually occupied structure in town, but that doesn't mean that they don't add new features to keep guests coming back again and again. Monti's has added free WiFi for customers, they have new lunch and dinner specials and they are continuing their "Jazz at Monti's" series every Monday evening through May. And, Four Peaks is ready to tap their seasonal brew, the Leroy Brown Ale.
For a true taste of Tempe, try one of the many locally owned establishments located near the Arizona State University Tempe campus. For an interactive dining map and more information about Tempe restaurants, visit the Tempe Convention & Visitors Bureau: http://www.exploretempe.com.
Dining with a side of cool
Sucker Punch Sally's Old School Diner is one of the newest Tempe restaurants. This ultra cool diner and live music venue is owned by Sucker Punch Sally's, a local custom motorcycle manufacturer. It is adjacent to Arizona State University, at the corner of Mill Avenue and University Drive. Sucker Punch Sally's Old School Diner is filling a very important niche in a college town – late night dining. It is open 24 hours a day and features classic comfort food, a full bar, live music and free Wi-fi. Their new Web site features a calendar with all of their upcoming music events.
The diner caters to college students looking for good food on the go, Tempe residents and visitors looking for a cool place to hang out and local business people who need a quick bite to eat. The diner's custom décor is influenced by an eclectic blend of the motorcycle, hot rod, music, art, skate and surf cultures.
Sucker Punch Sally's Old School Diner is releasing their brand new menu soon. All food is 100% made from scratch and includes breakfast available all day, daily Blue Plate Specials and delicious fresh baked pies (even a giant apple pie made from 20 apples) and tasty desserts. This Tempe restaurant has a popular bar area with all day happy hour prices and live entertainment several nights a week. The diner also offers a full-service catering department.
Dining with a side of history
Monti's La Casa Vieja, located at Mill Avenue and Rio Salado Parkway, is the perfect combination of excellent food and Arizona history. This Tempe restaurant is located in an adobe hacienda that was constructed in 1871 by Tempe founder Charles Trumbull Hayden. For decades, the Hayden family lived in the hacienda, which they called La Casa Vieja (Spanish for "the old house"). It's the birthplace of Carl Hayden, the first U.S. Senator to serve seven terms.
Today, Monti's La Casa Vieja is the largest full-service restaurant in Arizona. The menu features everything from perfectly seasoned steaks to ribs to seafood, all served with the legendary rosemary Roman bread. Their spring lunch and dinner specials are available during the work week. Items include mahi mahi fish tacos, an herb encrusted prime rib dinner and thin cut pork chops. On Monday nights, the popular "Jazz at Monti's" events will continue through May, featuring some of the best local musicians.
Monti's provides a tribute to Arizona and Tempe history, with memorabilia from days gone by filling each room. Monti's is a favorite for residents and visitors alike who are looking for a great meal at a great price, in an unparalleled location.
Dining with a side of beer
Four Peaks Brewing Company is Arizona's largest brewery with award-winning food and hand-crafted ales. They offer perennial favorites brews like Kiltlifter, Arizona Peach and 8th Street Ale, in addition to seasonal brews. This month, they are getting ready to tap their new spring seasonal brew: Leroy Brown Ale. Leroy Brown is a Northern English brown ale, with the pleasant, mild bitterness of its imported British hops.
The brewery building is a beautiful turn of the century brick warehouse with significant historical value. Originally constructed in 1892, the building was home to Pacific Creamery and later Bordens Creamery, companies that pasteurized and bottled milk and produced ice for the local residents of Tempe. Today, Four Peaks brews 18,000 barrels of beer each year, which equals 558,000 gallons or 36,000 kegs.
Four Peaks food is not the standard brew pub fare. Favorite menu items at this Tempe restaurant include shrimp and goat cheese bruschetta, a salmon BLT and Carne Adovada, cherry wood smoked, slow roasted pork in a flavorful red chili sauce. The combination of mouth-watering dishes, unique beers brewed on site and an iconic building with a huge outdoor patio keeps locals and visitors coming back for more time and again.
About Tempe Convention and Visitors Bureau
The Tempe Convention and Visitors Bureau is a non-profit organization devoted to marketing Tempe, Arizona as a desirable visitor and group destination site. The Tempe Convention and Visitors Bureau's mission is to also provide visitors, media professionals and meeting planners with information on Tempe hotels, Tempe restaurants, Tempe entertainment and local points of interest. To learn more about Tempe, Arizona please call 480-894-8158 or 800-283-6734 or visit us at http://www.tempecvb.com.
###