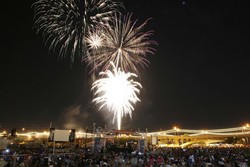 Tempe, AZ (Vocus) June 2, 2010
Tempe, Arizona hotels, restaurants and attractions are offering summer discounts on http://www.ExploreTempe.com. Click on "Special Offers" to find deals like the $89 room rate plus a $25 food and beverage credit at the picturesque Fiesta Resort Conference Center and two free passes to the popular Big Bang Tempe dueling piano bar.
With summer specials like these, visitors to Tempe can follow a lazy day at the pool with fun after sunset. Some of Tempe's coolest events for couples and families are happening now.
The Desert Botanical Garden is offering Garden Flashlight Tours on Thursday and Saturday evenings from May through August. Beginning at 7 p.m., guests can observe how the desert comes to life when the sun goes down. You might see nighthawks, snakes and rare night blooming flowers.
Friday nights in June, the Desert Botanical Garden is the perfect setting for music under the stars. Jazz in the Garden, 7:30-9 p.m., features entertaining musicians, scrumptious food and wine tasting. Upcoming performances include Cold Shott and the Hurricane Horns, June 4; Junction 10, June 11; The Jumpback Brothers, June 18; and Big Nick and the Gila Monsters, June 25.
The strains of live music can also be heard in the Mill Avenue District and at Tempe Marketplace. Music on Mill is an event that brings local musicians, from acoustic guitarists to rock bands to violinists, to Mill Avenue. This event takes places every Thursday night from 5-10 p.m. through June 24. In addition, just about any night of the week, visitors to Mill Avenue can listen to musicians who spontaneously set up shop on the red brick sidewalks, or they can dance the night away to live bands at several nightclubs along the way.
At Tempe Marketplace, live music adds to the festive atmosphere on Friday and Saturday nights. There are a variety of acts, from folk to alternative rock, accompanied by dancing fountains and laser light shows. Comfy couches and fireplaces make for the perfect spots to relax and listen to your favorite tunes.
If you'd rather laugh than groove, Tempe Improv is a must. One of the premiere comedy clubs in the country, the Tempe Improv has hosted superstars of comedy such as Jerry Seinfeld, Dennis Miller and David Spade. The tradition of laughter in Tempe continues Thursday-Saturday evenings. Upcoming shows include Alex Reymundo, June 10-12, Michael McDonald, June 17-19 and Bert Kreischer, July 1-3.
In the Heights, winner of four 2008 Tony Awards® including Best Musical, is a sensational new show about chasing your dreams and finding your true home. Tempe audiences will be able to see In the Heights at the Frank Lloyd Wright-designed ASU Gammage, June 15-20.
Family fun is always in season in Tempe. The Phoenix Zoo is a favorite of locals and visitors alike all year-round. The Zoo is introducing a new evening event this summer, "Prowl & Play." From 6-9:30 p.m. June 12, July 10 and August 14. Sign up for a guided night hike along the darkened trails of the Zoo, hear what Park Ranger and keeper staff do in the park after dark, or catch a ride on the Sneak a Peek Safari Train and find out what sort of silly antics the "animals" are up to when no one is around.
Nothing says summer like watching fireworks on the 4th of July. The July 4th CBS 5 Tempe Town Lake Festival features activities for kids, live entertainment, food booths and one of the best fireworks shows around. The fireworks are shot from the Mill Avenue bridge and beautifully reflected in Tempe Town Lake.
In a city known for sunshine, Tempe is full of reasons why starry nights can be the most fun. And, with budget-friendly summer deals, your vacation plans just became more reasonable!
For more information about summer specials and events, visit the Tempe Convention and Visitors Bureau at http://www.ExploreTempe.com or call 800-683-2734.
About Tempe Convention and Visitors Bureau
The Tempe Convention and Visitors Bureau is a non-profit organization devoted to marketing Tempe, Arizona as a desirable visitor and group destination site. The Tempe Convention and Visitors Bureau's mission is to provide visitors, media professionals and meeting planners with information on Tempe hotels, Tempe restaurants, Tempe entertainment and local points of interest. To learn more about Tempe, Arizona please call 480-894-8158 or 800-283-6734 or visit our Web site.
###