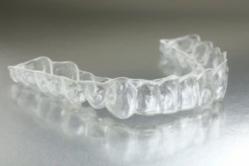 Smile Innovations offer the latest in dental technology. Dr. Boyd Patummus, DMD and Dr. Linda Ma, DMD now use Invisalign®
Tempe, Arizona (PRWEB) December 18, 2012
The Tempe based family dentistry, Smile Innovations offer the latest in dental technology. Dr. Boyd Patummus, DMD and Dr. Linda Ma, DMD now use Invisalign®, a new and exciting alternative to orthodontics.
Instead of traditional braces, Invisalign® has changed the way teeth are straightened and realigned. The process involves a series of custom-made trays that snap down over the teeth. Metal and wire brackets are still necessary for the straightening process, but the plastic aligners can be removed for eating, brushing and flossing, a much easier solution than permanent braces.
Instead of the visibility of braces, Invsalign® uses clear aligners making it impossible to see. Not only does Invisalign® avoid the use of bulky metal, the process is also much faster. Where braces used to take up to 24 months, the Invisalign® procedure is complete within 14 months. The process also forgoes the weekly painful adjustments and only requires patients to come in bi-monthly for a new mold.
The Invisalign® process allows the patient to see the end result before treatment begins. A mold and photograph of the patient's teeth are scanned into a computer system that generates a 3D cyber model of the patient's mouth. The patient will then know what to expect when the procedure is complete.
Smile Innovations are one of the first dentistry's in Tempe, Arizona to offer the Invisalign® procedure. Smile Innovations represent a new generation of dental professionals. They are known for their gentle touch and expert techniques, ensuring the best dental services in Tempe.
For More Information on Smile Innovations and Invisalign® visit, http://www.smileinnovation.com or call (480)820.7777