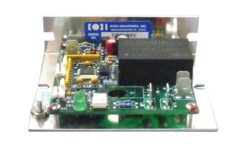 Delivers a maximum load current of 15 Amps.
Mechanicsburg, PA (PRWEB) May 07, 2013
The 5R1-001 RoHS compliant temperature controllers are new universal AC input proportional controllers for resistive heaters. The product software is PC programmable and requires no programming experience and has 1500VAC isolation from the electronic circuitry virtually eliminating interference from noise or errant signals. Once the temperature controller is set-up, the computer may be disconnected and the device becomes a standalone unit or the computer can remain connected for data acquisition. The temperature may also be set through the optional display or remote potentiometer. The load circuit delivers a maximum load current of 15 Amps.
FEATURES

Universal AC Input
Isolated Power Supply
PC Programmable
RS232 Communication Port
Setup via operator interface or serial link GUI
Non-Volatile Memory
Set temp range determined by thermistor type
Open Circuit Protection
ACCESSORIES
Display Model 5R6-586: 4 digit temperature read out
Heat Sink recommended for applications using 15A load or greater temperature sensor
Oven Industries Inc. supplies custom temperature controllers and sensors that serve an array of clients, from aerospace, automotive, biomedical, defense markets, medical and semiconductor.
From industrial temperature controllers to programmable sensors, Oven Industries creates many detailed and customized solutions for clients, designed by an expertly trained staff of engineers.
For more information about the 5R1-001 controller, visit http://www.ovenind.com/bv/Products/Proportional-Temperature-Controller-5R1-001__5R1-001.aspx
Media Contact
Rose Wescott
717-766-07212
r.wescott(at)ovenind(dot)com