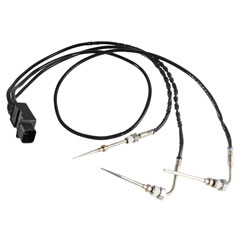 St. Louis, MO (PRWEB) July 29, 2011
Watlow®, a designer and manufacturer of electric heaters, controllers and temperature sensors, announces the availability of the control area network (CAN) J1939 digital output signal with its EXACTSENSE® high temperature thermocouple for exhaust gas temperature measurement. EXACTSENSE is also available with pulse width modulated (PWM), local interconnect network (LIN) and analog 0-5V output signals.
The CAN J1939 output signal eases integration of EXACTSENSE thermocouples into diesel exhaust after-treatment systems. It requires fewer inputs than a traditional analog sensor and connects easily with the engine control module. The CAN output signal also allows the EXACTSENSE sensor to share self-diagnostic messages with the engine control unit to meet on-board diagnostics requirements.
The EXACTSENSE exhaust gas temperature sensor combines the durability and high temperature capabilities of a thermocouple with an integrated sensor control unit. This combination delivers the accuracy and response time needed to meet demanding global diesel emissions requirements. It is specifically designed to measure exhaust gas temperatures for over the road medium and heavy-duty vehicles, and off-road construction, mining, agriculture, marine and locomotive equipment.
The EXACTSENSE thermocouple is available in a variety of configurations for high temperature applications including diesel particulate filters (DPF), diesel oxidation catalysts (DOC), selective catalytic reductions (SCR), exhaust gas recirculated (EGR), lean nitrogen oxides (NOx) trap (LNT), turbochargers, burners and reformers. The CAN sensor features an accuracy of ±7°C, response time of approximately 5 seconds in 20 m/sec flowing air, and availability with immersion lengths from 25 up to 200 millimeters.
Watlow is a clean diesel emissions partner, supporting original equipment manufacturers (OEMs), after-treatment system integrators and retrofitters of off-road and medium and heavy duty diesel engines.
About Watlow
Since the company's founding in 1922, Watlow has brought its thermal expertise to applications for semiconductor processing, photovoltaics, energy processing, diesel emissions, foodservice equipment, medical equipment and aerospace. Headquartered in St. Louis, Missouri, Watlow is the largest custom designer and manufacturer of industrial heaters, sensors and controllers with offices and manufacturing facilities around the world. For more information, visit http://www.watlow.com or call your nearest Watlow representative at 1+ (800) WATLOW2 or 1+ (314) 878-4600.
###