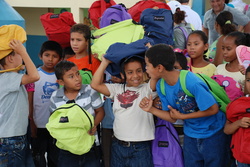 We're happy to have this chance to give back to Panama and look forward to helping as many people as possible in the future.
Capira, Panama (PRWEB) April 14, 2009
Dozens of families celebrated Easter at the Lidice primary school with traditional food, gifts, and activities for children thanks to a joint effort by Templar Panama and the Bruce Jones Foundation.
"We are grateful for everything they've done today," said Edilsa, a village resident and mother of four. "I had nothing for my children to start school and now they're ready. It's a blessing"
Bruce Jones and Templar Panama provided a holiday meal of rice and chicken for the village along with Easter games, activities and candies for about 100 children, said Bruce Jones Director Maria Donato. Marta de Martinelli, wife of Panama presidential candidate Ricardo Martinelli donated baskets of basic foodstuffs and household supplies for about 30 families. Bruce Jones gave each of the children a backpack full of school supplies for the upcoming school year.
"We feel this event was a success not only because this community got to come together to celebrate this important holiday, but because these children can go to school more prepared materially and emotionally," Donato said. Bruce Jones's mission is to improve the lives and educational opportunities of children in Panama.
"Many residents of this village would have gone without these things we take for granted," said Templar President Gonzalo De La Guardia.
Lidice is a small village near Capira, a town about 40 minutes from Panama City. Despite a development boom in the Capira area, many of the families of Lidice continue to live in extreme poverty. The village consists mainly of shacks with zinc roofs and dirt floors. Most of the homes here have no running water or sanitary systems. Among the village's children are orphans and many young children forced to be alone while their parents make long commutes to find work.
"Working with Bruce Jones has allowed us to focus our efforts on those most in need," said Templar Investment President Martin Lamb. "We're happy to have this chance to give back to Panama and look forward to helping as many people as possible in the future."
Templar Panama Real Estate is a privately held real estate company based in Panama City, Panama, offering a wide range of real estate and investment services.
Bruce Jones Foundation is a charitable organization founded for the sole-purpose of helping Panama's underprivileged children with their health and educational needs.
###